July 25, 2019
Part Two: Experimental 'phygital' store delivered proof of concept
< Go Back
Part Two: Experimental 'phygital' store delivered proof of concept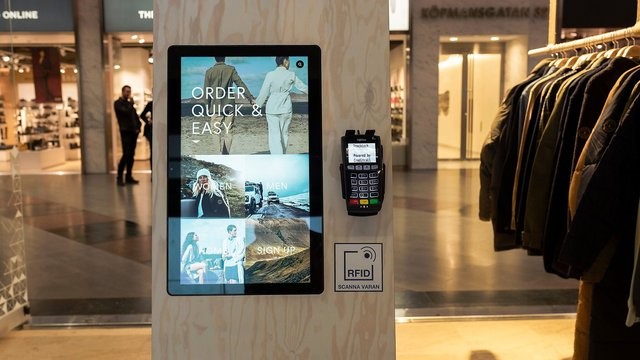 The Fitting Room, an experimental store that allowed customers to browse catalogs on self-serve kiosks, try on shoes and apparel in the store and place orders for home delivery, proved the power of combining physical and digital commerce as well as the importance of testing retail concepts. In its one-month existence, from October to November, the 63-square-meter space in a Swedish mall delivered double-digit sales gains with reduced inventory, labor and marketing costs, as described in part one of this two-part series.
Executives for the two brands The Fitting Room featured — Sneaky Steve, a shoe specialist, and Wacay, an apparel brand — acknowledge the success of the concept, which combined the benefits of physical and digital commerce. The physical store allows the customer to touch and try on product, while the digital venue — in the form of touchscreen kiosks — offers extensive product information.
Neither brand previously had a presence in the Nordstan shopping center in Gothenburg, Sweden, where The Fitting Room was located.
Brands seize the opportunity
All inventory in the store was try-on only. Every shoe model was available in every size, but not in every color. Not every color t-shirt was available to try on; there was one color for small, another for medium and another for large.
Måns Månsson, Sneaky Steve CEO and founder, didn't take a lot of convincing when approached by The Fitting Room's founders — Deniz Chaban, co-founder and CEO of Touchtech, and Johan Lind, CEO and co-founder of Vertiseit — about participating in the test.
It was easy for us to say yes to it, said Månsson, as he is always looking to try new sales approaches. The company has been selling its products through physical stores — including some under its own name — for a decade and currently sells through four stores in Sweden and an e-commerce site it launched eight years ago.
Månsson recognized the importance of paying attention to both physical and online commerce. He expects his e-commerce sales, which accounted for 30% of the company's sales in 2018, will reach 45% this year and continue to grow for the next few years.
The Fitting Room responds to many of the challenges we have with traditional retailers, he said. Here, customers are given the opportunity to explore, try and order shoes from our entire available online range. Thanks to the customer trying out the shoe before ordering, we are also not affected by any costly return handling. He said the regular 30% return rate for e-commerce sales dropped to 1%.
Results promising
The Fitting Room accounted for one third of Sneaky Steve's e-commerce sales for the month, Månsson said, translating into a total of 125,000 Swedish krona ($13,350). In addition, he said, sales per square meter in the Fitting Room doubled that of other shoe stores that carried the brand.
The store's location was advantageous for Sneaky Steve since it has a warehouse nearby that allowed customers to receive their orders within two days, Månsson said. Customers could pick up orders at the warehouse or have them delivered via couriers.
For us it was very important to see that we can increase online, he said. He also said the touchscreen displayed the product images well, which reinforced the brand's value to the customer. They easily can see where it was produced and which company produced it, what leather we used…everything. And of course, the image of the brand.
It took the sales people some time to get used to The Fitting Room, he said, but they were able to adapt to the environment. Sneaky Steve provided both of the sales people for the store.
Månsson said he would like to do something similar to The Fitting Room in the future. He is looking to expand in Germany, where the company already has e-commerce business.
It opened a lot of eyes for other retailers how you can do this, he said.
An 'arena for experiences' and 'a coherent customer journey'
The Fitting Room is in many ways what we want from the future store, said Jonas Eriksson, Wacay CEO and founder.
While Wacay has since discontinued operations on account of financial issues, Eriksson described The Fitting Rom as an arena for experiences of the brand in a coherent customer journey between digital and physical channels. Here we get the opportunity to build a relationship with our customers by presenting the story about Wacay and our products.
He also saw it as a way to upsellinformation to the store's two employees who assisted customers with using the kiosks and trying on merchandise.
We wanted to explore our opportunity to work close with retailers and also use this technology to educate different salesmen within the retail stores, Eriksson said.
He also wanted to know how a customer interacts with the touchscreens. We were kind of eager to learn how the process of exploring, trying, testing and also making a final purchase would look in real life, he said.
It was a very good period, because we could also experience how this experiential shopping would be experienced by customers who didn't know about the brand, Eriksson said.
During the month, the 17,092 Swedish krona ($1,830) sold through the store was 16% of Wacay's total e-commerce sales for that month, according to information The Fitting Room provided Kiosk Marketplace.
As brands and retailers recognize the need to create a customer journey that combines both digital and physical commerce, The Fitting Room experience indicates that technology providers experienced in both areas can create some innovative retail concepts.