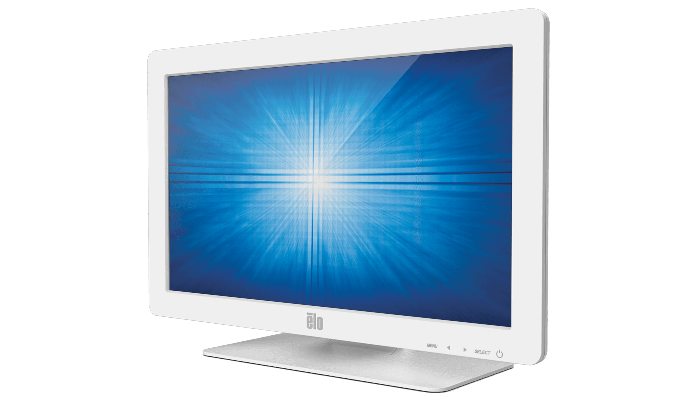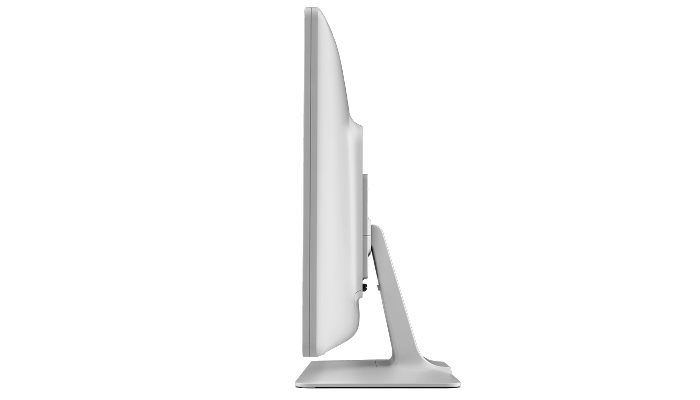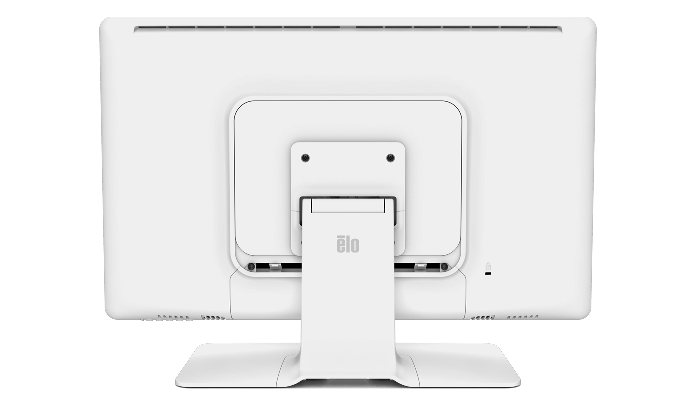 2401LM 24" Touchscreen Monitor (Discontinued February 2019)
Overview
Elo 2401LM 24-inch touchscreen monitor delivers an interactive solution for healthcare professionals and patients. The feature rich, 2401LM 24-inch touchscreen monitor offers professional-grade, best-in-class optical performance with Elo's industry-leading touch technology that was designed for medical professionals that demand reliability and input flexibility. Compliant with multiple safety and electrical certifications, the clean white design of the 2401LM is equipped with a USB and RS232 combination touch controller, built-in audio amp and speakers, VGA, and DVI, video connectors all with a three-year warranty.
Healthcare compliant.

The 2401LM is compliant with multiple safety and electrical certification standards, including IEC/EN 60950-1 and IEC/EN 60601-1 for safety and EN 55011, EN 55022, EN 55024 and IEC/EN 60601-1-2 (3rd Edition) for EMC. Equipped with an LED backlit state-of-the-art LCD panel, the monitor is environmentally friendly with reduced power consumption.

Integrated touch.

The 2401LM features IntelliTouch® surface acoustic wave (SAW) technology with single touch functionality providing a stable drift-free touch response, and outstanding image clarity and resolution.

Functional design.

Having been designed for touch from the start, the 2401LM features a stable stand with tilting functionality, VESA mount, cable management and cable fastening features to prevent accidental disconnection, OSD controls with lockout capability and a IPx1 drip-resistant housing.

Commercial grade.

The 24-inch touchscreen monitor delivers the quality and reliability Elo is known for and is backed by our three-year standard warranty. All our products go through rigorous reliability testing (over 20 tests) to deliver 50,000 MTBF.
Other features.
High quality panel, wide viewing angles, and high contrast ratio provides best-in-class optical performance
USB and serial touch interface VGA and DisplayPort 1.1 Video interface allows connectivity to new and legacy systems
On board audio amp and speakers positions sound signals nearby user interface
High quality panel, wide viewing angles, and high contrast ratio
Pure-glass touchscreen with SAW technology
Energy savings by using LED technology
Recognized by public health authorities in most countries as the safety standard for certain medical electrical equipment
Three-year standard warranty
Specifications
Technical

---

IntelliTouch White (Worldwide) - E263686
IntelliTouch Black (Worldwide) - E000140

Touch Technology & Capacity

SAW (IntelliTouch® Surface Acoustic Wave) - Single Touch

24'' diagonal, Active matrix TFT LCD (LED)

20.9" x 11.7" / 531.4mm x 298.9mm

Other Supported Resolutions

640 x 350 @ 70 Hz
720 x 400 @ 70 Hz
640 x 480 @ 60, 72 & 75 Hz
800 x 600 @ 56, 60 Hz & 72 Hz
832 x 624 @ 75 Hz
1024 x 768 @ 60, 70 & 75 Hz
1280 x 800 @ 60 Hz
1280 x 960 @ 60 Hz
1280 x 1024 @ 60 Hz & 75 Hz
1360 x 768 @ 60 Hz
1440 x 900 @ 60 Hz
1600 x 1200 @ 60 Hz
1680 x 1050 @ 60 Hz

Horizontal: ±89° or 178° total / Vertical: ±89° or 178° total

LCD panel: 300 nits
IntelliTouch: 270 nits

Response Time-total (typical)

Input Video Signal Connector

Mini-D-sub 15-pin VGA type; DVI-D connector for digital video input

0.5V rms maximum stereo signal

Coaxial power jack (2.5 mm pin diameter, 6.3 mm barrel diameter, 9.5 mm barrel length)

Adapter Input Voltage Range

Power Consumption (Typical)

Two x 1W internal speakers

Controls: Menu, Up, Down, Select

Settings: Brightness, Contrast, Phase, Clock, H-Position, V-Position, Auto-Adjust, Maintain Aspect Ratio, Sharpness, Video Source, Color Temperature, OSD Timeout, OSD Language, OSD Rotation, Volume, Mute, Recall Defaults

Languages: English, French, Italian, German, Spanish, Simplified Chinese, Traditional Chinese, Japanese

Lockouts: OSD, Power

Monitor Dimensions (with Stand)

23.9" x 14.6" x 2.4" / 606mm x 373mm x 61mm

28" x 10.5" x 20" / 711mm x 267mm x 508mm

0°C to 40°C / 32°F to 104°F

-20°C to 60°C / -4°F to 140°F

Operating: 20% to 80%; Storage: 10% to 90%

Touchscreen sealed to bezel; Touchscreen sealed to LCD

50,000 hours demonstrated

With provided stand (on flat surface or bolted to surface via holes in base) in landscape; 100mm VESA rear-mount

1 Year Extended Warranty - Elo P/N: E188404
2 Year Extended Warranty - Elo P/N: E572038
Elo Advance Unit Replacement (AUR) - Elo P/N: E67295-000

Regulatory approvals and declarations

L, cUL, CE EN/IEC 60601-1 3rd ed., FCC Class B, VCCI, C-Tick, KC, GOST, BSMI, CCC, China RoHS, IPX1
Elo Declarations: RoHS, WEEE, CE

Replacement DC Power Supply

Elo P/N: E448370
For monitors with older 4-pin Mini Din connectors - replacement medical grade power adapter - Elo P/N: E000648

US medical and EMEA AC power cables are included with every monitor.

EMEA: E690013
North America: E450339
China: E030476
Taiwan: E637694
Japan: E849156
3-pin to 2-pin adapter: E351985
UK: E235317

Optional IntelliTouch Stylus Pen

Stylus pen with rubber tip, designed specifically for use with IntelliTouch SAW touch technologies. Part number D82064-000, available at additional cost.
---
Configurations
(2)
Refine your search: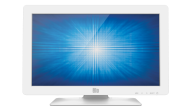 E263686 (Worldwide)
White
USB and Serial
Bezel
Anti-glare
IntelliTouch® - SAW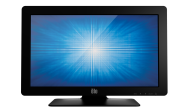 E000140 (Worldwide)
Black
USB and Serial
Bezel
Anti-glare
IntelliTouch® - SAW
No Configurations found.
Get Started with Elo Today.