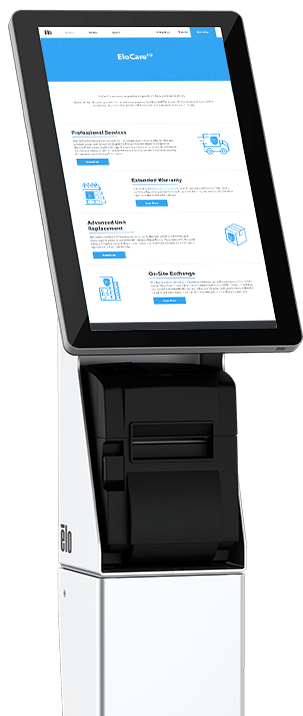 On-Site Exchange
Elo offers an optional On-Site Exchange warranty to cover you in the event your device requires service. All you have to do is submit a Return Material Authorization (RMA) request through Elo's online portal and we handle the rest. Our technicians will come out to your location, replace the defective unit and schedule its pick-up and removal to get you up and running in no time.
Program Benefits
Coverage You Can Count On

Elo will service devices on-site.

Simple to Use

Submit a claim online to initiate and track the On-Site Exchange process.

Minimize Downtime

Technicians are dispatched at an agreed upon time to deliver and install a replacement unit, as well as prepare the unit for return shipment.

Reduce Hassel

All shipping costs are covered by Elo.
Qualifying Products & Offerings
Product Type
Product Line
OSE Coverage offerings
Interactive Digital Signage (IDS)1
(MOQs apply)
32-65" Large Format Signage

3YR Warranty Coverage + OSE - Elo P/N: E740527

4YR Warranty Coverage + OSE - Elo P/N: E740728

5YR Warranty Coverage + OSE - Elo P/N: E740918
1 On-Site Exchange coverage may be purchased for Large Format Signage within the Continental US. Conditions of the standard IDS warranty applies.
How OSE Works
Request RMA

Request an OSE replacement by submitting a Returned Material Authorization (RMA).

RMA Reviewed

Once the request is verified and an RMA number is issued, an Elo representative contacts the customer to arrange the date and time for the exchange.

Service Scheduled

Elo dispatches a technician to the customer site at the agreed upon time.

Unit Replaced

The technician replaces the defective unit and prepares the unit for return shipment.
Purchasing On-Site Exchange
On-Site Exchange coverage for Large Format Signage is available for purchase wherever Elo Devices are sold. Coverage for other products may be available by request. Please contact your Elo Sales Representative for more information.
Get Started with Elo Today.