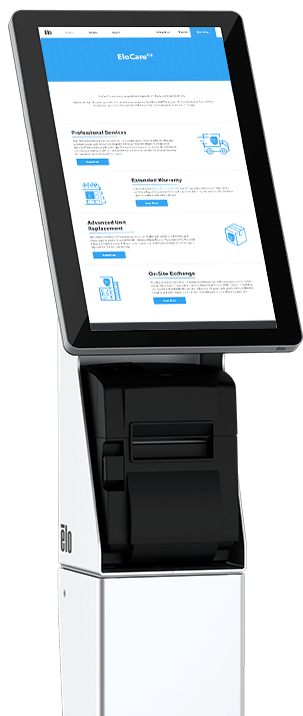 Professional Services
With EloCare Field Services, our highly skilled Project Managers are dedicated to supporting you through major stages of your product lifecycle.
Whether you want Elo to manage the full scope of a major project or simply bring in our resources to enhance your existing capabilities, EloCare Field Services can provide the necessary level of support to ensure successful execution of your plan.
Project Management
Elo project managers will assist you through major stages of the product lifecycle. From initial product selection to end-of-life planning,
Elo's project management team delivers the expertise you need from the name you trust.
Product Selection

Elo experts will help you determine which product is right for your business needs and environmental conditions.

Configuration & Staging

Once you've selected the right hardware for your business, Elo manages the complex steps necessary to configure your devices and prepare them for deployment.

Deployment & Provisioning

Elo works directly with your business to install the devices according to your desired schedule.

Maintenance & Updates

Elo will deploy on-site support to maintain your devices for updates or repairs to minimize downtime and to help keep your business running smoothly.

Decommissioning & Recycling

When it's time for a device refresh, Elo will help uninstall and recycle your outdated technology to prepare for new hardware.
Purchasing Professional Services
EloCare Professional Services may be purchased and tailored to your business needs. Contact your Elo sales representative to get started today.
Get Started with Elo Today.