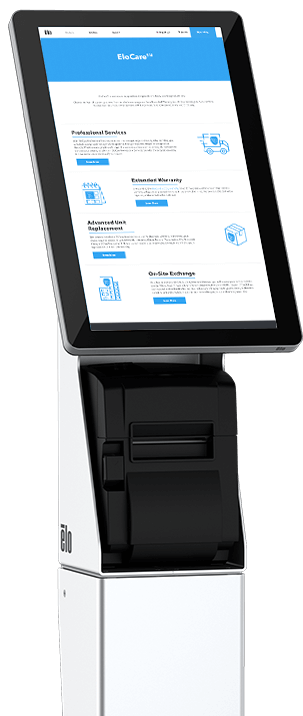 Accidental Damage Protection
Get some peace of mind with Elo's optional Accidental Damage Protection (ADP) coverage available for qualifying Elo devices. With EloCare ADP, your device is covered against unintentional damage such as dropping the device, impact to the device or contact with food or spilled liquid.1 And Elo makes submitting a claim easy without any hidden fees or deductibles. In the event that accidental damage occurs, simply submit a Return Material Authorization (RMA) request through Elo's online portal.

Please note, devices covered by standard or extended warranties will be repaired and returned within 14 days.2 Enhance your ADP warranty with Advance Unit Replacement (AUR) coverage offering expedited lead times on RMAs providing next business day delivery.3
Program Benefits
Easy Enrollment

Purchase with device or within one year of the standard warranty expiration

Simple to Use

Submit a claim online and track the process

Enhanced Coverage

Protect your device from unintentional damage that is not covered by the standard warranty

Reduce Unplanned Expenses

Avoid expensive out-of-warranty fees that incur when your device is not protected
Qualifying Products
Product Type
Product Line
Warranty Coverage
Mobile Computers
M50, M60

3YR warranty coverage + ADP - Elo P/N: E672040

5YR warranty coverage + ADP - Elo P/N: E672239

1YR Warranty Coverage + AUR + ADP - Elo P/N: E894512

3YR Warranty Coverage + AUR + ADP - Elo P/N: E672440

5YR Warranty Coverage + AUR + ADP - Elo P/N: E672646

3YR warranty coverage + ADP + OS 360 - Elo P/N: E893726

5YR warranty coverage + ADP + OS 360 - Elo P/N: E893926

3YR Warranty Coverage + AUR + ADP + OS 360 - Elo P/N: E894122

5YR Warranty Coverage + AUR + ADP + OS 360 - Elo P/N: E894322

All-in-One Devices
I-Series 4 for Android

3YR Warranty Coverage + ADP - Elo P/N: E130329

4YR Warranty Coverage + ADP - Elo P/N: E130530

5YR Warranty Coverage + ADP - Elo P/N: E130719

2YR Warranty Coverage + AUR + ADP - Elo P/N: E131490

3YR Warranty Coverage + AUR + ADP - Elo P/N: E131674

4YR Warranty Coverage + AUR + ADP - Elo P/N: E131859

5YR Warranty Coverage + AUR + ADP - Elo P/N: E132053

3YR Warranty Coverage + ADP + OS 360 - Elo P/N: E130908

4YR Warranty Coverage + ADP + OS 360 - Elo P/N: E131109

5YR Warranty Coverage + ADP + OS 360 - Elo P/N: E131294

2YR Warranty Coverage + AUR + ADP + OS360 - Elo P/N: E132245

3YR Warranty Coverage + AUR + ADP + OS360 - Elo P/N: E132432

4YR Warranty Coverage + AUR + ADP + OS360 - Elo P/N: E132627

5YR Warranty Coverage + AUR + ADP + OS360 - Elo P/N: E132811
How It Works
Request RMA

Request an ADP claim by specifying "Accidental Damage" as the reason for return when submitting a Returned Material Authorization (RMA).

RMA Issued

Once the request is verified, an RMA number is issued along with instructions for next steps.

Device Replaced or Repaired

For devices covered by AUR3, replacements will arrive next business day4. For devices not covered by AUR, devices will be repaired and returned within 14 business days upon receipt.
Purchasing
Accidental Damage Protection is available wherever Elo devices are sold. Please contact your Elo Sales Representative for more information.
Additional Terms & Conditions Apply
1 ADP covers the Elo device's hardware only and excludes any firmware on such device. ADP does not cover damage to an Elo device resulting from willful misconduct, negligence, misuse, theft, fire, full immersion in any liquid, or any natural disasters. After the 1st claim of Accidental Damage under the ADP plan for a covered Elo device, service coverage of such device transitions to standard AUR or extended warranty coverage.
2 Customer is responsible for shipping the device to Elo's repair facility. Typical turnaround time from receipt of device to shipment is 14 business days.
4 If Elo receives the replacement request before 12 PM PST on a business day, the replacement device will ship same day. If the request is received after 12 PM PST, the replacement device will ship the following business day.
Get Started with Elo Today.