Create Your Interactive Kiosk Experience
As consumer journeys evolve, so do the store concepts – driving demand for touch screen kiosk experiences.
Our versatile, modular interactive kiosk solutions offer innovative ways to adapt your experience to meet consumers'
changing behavior for a variety of applications including restaurant kiosks, outdoor info kiosks, retail self-service kiosks and more.
3%

A Harvard Business Review study shows a 7 second reduction in average service time when using touch screen kiosk solutions, which has been linked to an increase in market share of up to 3%.

60%

A recent industry study suggests that 60% of shoppers would visit a limited-service concept more often if a self-service kiosk were available, and this trend is growing fastest among millennials who are more reluctant to deal directly with cashiers.

30%

The increase in consumer spending when using a self-checkout screen.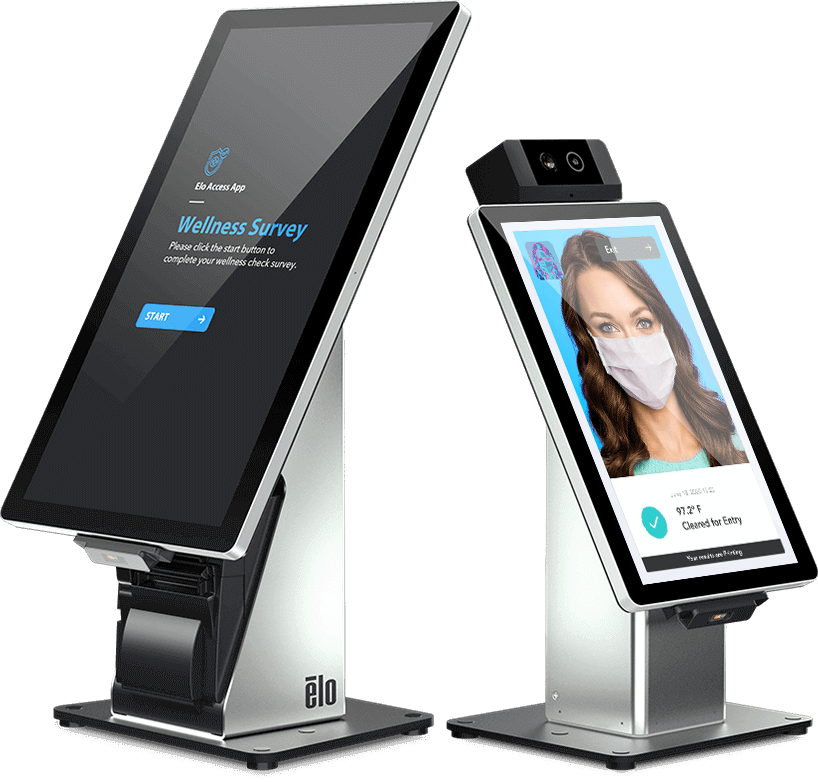 Elo Access Self-Service Kiosk Solutions
Simplify access control and visitor management for employees, students, patients, and guests. With Elo Access Solutions, you get a robust temperature screening kiosk complete with an Android Interactive Display, Temperature Sensor Pro and choice of stand.
The Elo screens are well designed with a great build — they're very strong and fit perfectly onto our kiosks. Elo has put a lot of consideration into the design of their touchscreens and really focused on the detail. Elements like the clever recessed and covered cable storage compartments built into the back of the monitors, or how the cable is routed, definitely make a huge difference to how compact and clean our kiosks now look. This attention to detail has really helped us create a more engaging and seamless experience that we want all our customers to have.
Wesley Clemson
Founder, Printible
Everything You Need to Drive Your Business
Choose

Choose from Android,
Windows or Linux operating
systems on an extensive range
of interactive touchscreens
from 7" – 65"

Configure

Mount vertical or horizontal and combine with our Edge Connect technology and modular peripheral devices to allow configuration into multiple self checkout screen solutions

Connect & Control

Deploy and securely manage
content across your entire
network of Android-powered
devices from anywhere
around the world with our
EloView cloud software
Elo Edge Connect™ Lets You do More!
Built with versatility in mind, the Elo Edge Connect system offers a wide assortment of peripheral options. Whether for an endless aisle retail self service kiosk or a self-order restaurant kiosk, you can seamlessly attach any combination of up to four peripherals to the edge of the touchscreen creating a bespoke solution. And, you can add or move them later as your needs change!
Mount with Flexibility
From compact to sleek, Elo's lineup of hardware mounts, brackets and stands meet the need of nearly every requirement in your modern environment. From space saving wall mounted kiosks to adaptable floor and counter self-service kiosk mounts, configure the exact solution that fits your needs.
Countertop

Floorstand

Brackets
Connect & Control
EloView allows you to deploy and securely manage your entire network of Android-powered interactive signage, point-of-sale systems and touch screen kiosks – from anywhere around the world. You can deploy content, manage settings and maintain the OS to reduce operating costs while increasing up-time and security. The EloView architecture allows you to leverage your current investments in mobile and web assets. Simply push your apps and responsive websites via the EloView portal. EloView's modular system is designed to integrated with your business to enable smarter content distribution and device management abilities alongside your existing CMS platforms and MDM tools.
Why Elo for Self-Service?
Elo help brands and businesses stay measurably connected to their increasingly digital customers all over the world, everyday.
Original Inventor of
the Touchscreen

Millions of
Installations Worldwide

Purpose-built for
Commercial Use

Choose the Size & Style
that will Fit Your Needs

Secure Platform for Remote Content
Deployment & Device Management

Our Network Of Partners Allows Us to Create
the Perfect Interactive Experience For You
Custom Self-Service Solutions
We understand it takes more than just the right hardware to create the perfect solution. That's why we have an entire ecosystem of kiosk, software, payment and peripheral partners to scope the perfect interactive experience for you.