Unify Your Office with Elo
Streamline operations from visitor management to conference room collaboration with a variety of configurable touchscreen solutions from 7" to 65".
Interactive Office Display Solutions
Elo brings the broadest size offering of interactive displays, enabling organizations and corporate campuses to deploy a consistent experience across all interactive touchpoints. From cubicle to conference room, our interactive solutions help you transform any meeting room or public space into a collaboration center.
Eliminate double bookings, confusion and interrupted meetings with our wall-mounted touchscreens and POE for conference room scheduling.
Meeting
Management
Annotate, collaborate, present and poll to create an interactive learning experience powered by the versatility and reliability of Elo's large format displays.
Interactive
Whiteboarding
Provide visitors with assistance and entertainment from the moment they enter your lobby; making it easy to check in, contact employees or navigate building amenities.
Office Wayfinding/Visitor
Management
Delight guests and engage employees with interactive digital signage to showcase videos, news, promotions, internal communications and more.
Virtual
Receptionist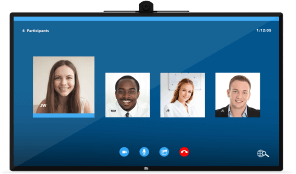 Enhance teamwork and collaboration in the workplace with large wall-mounted touchscreens for presenting, brainstorming and whiteboarding.
Video
Conferencing
Delight guests and engage employees with interactive digital signage to showcase videos, news, promotions, internal communications and more.
Lobby
Signage
Single Source Collaboration Solution
Empower team collaboration with a complete solution from a single manufacturer. Simply pair Elo's large format interactive display with our slide in computer module and Elo Edge Connect™ conference camera to create a flexible all-in-one solution purpose-built for collaboration and video conferencing. Elo's modular designs and software agnostic approach gives end users seamless integration of all components needed for a turnkey solution driven by a single power supply.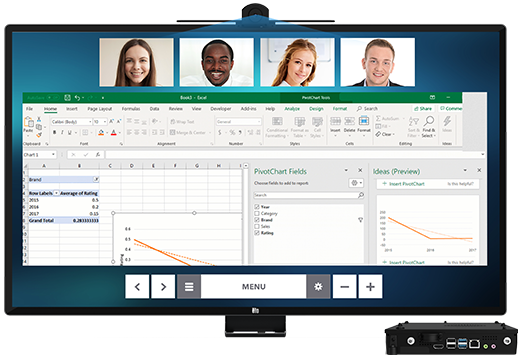 Stylus Kit -
Easily annotate & foster collaboration
With Elo you get a best in class all-in-one hardware solution and powerful whiteboarding and wireless BYOD content sharing software. Simply add your video conferencing platform and start collaboration in the room and across the globe.
NFC -
Clock in and clock out
Elo Edge Connect™ for
Your Enterprise
Built with versatility in mind, the Elo Edge Connect system offers a wide assortment of peripheral options that seamlessly attach to the edge of our touchscreens to support almost any workplace application. Successfully facilitate coworking and shared desks (aka hotdesking) using our NFC reader, manage meeting room availability with our status light kit, or snap on a fingerprint reader to modernize your visitor management system and enhance security on campus.
We're saving time in set up and saving money in lost cables - not to mention the stress relief to our employees with technology that just works.
Lisa Brown
Director of IT
5 Reasons Your Office Needs Elo
Elo's technology transforms workplaces, saving time and money inside corporate offices - whether it's touchscreens welcoming visitors in your lobby, managing schedules outside your meeting spaces or simplifying your AV systems in conference rooms. Read more about five ways Elo can help elevate your office.