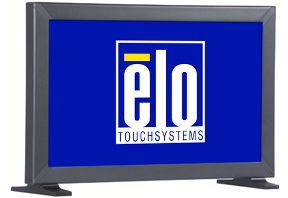 3220L 32" Touchscreen Signage (Discontinued April 2010)
Overview
The 3220L is especially designed for public viewing of advertisements, maps and other consumer information, as well as interactive digital signage. The 3220L features quiet, fanless operation and built in speakers and can be mounted in portrait mode. VGA loop through allows daisy-chaining of multiple monitors, and the monitor can be remotely controlled by a network.
Other features.
Available with IntelliTouch® Surface Wave Technology and dual serial/USB interface
High quality panel with 178° total viewing angle
Wide format WXGA resolution for sharper display
Plastic bezel adds durability for protection against vandalism
Backlight intensity can be changed to reduce power consumption up to 50%
Controls on the back rather than the front, for less public access
Hidden operating controls
Picture-in-picture (PIP)
Desktop stand can be removed or reversed for wall mounting option
VESA mounting option
Internal speakers
Sealed touchscreen
Multilingual on-screen display (OSD)
Specifications
Technical

---

IntelliTouch (Clear, Americas, EMEA, Asia/Pacific) - E636515

Touch Technology & Capacity

SAW (IntelliTouch® Surface Acoustic Wave) - Single Touch

32'' diagonal, Active matrix TFT LCD (LED)

27.6" x 15.6" / 702 mm x 396 mm

Other Supported Resolutions

1360 x 768 at 60 Hz
1280 x 768 at 60 Hz
1280 x 720 at 60 Hz
1024 x 768 at 60, 70 or 75 Hz
800 x 600 at 56, 60, 72 or 75 Hz
640 x 480 at 60, 67, 72 or 75 Hz

Horizontal: ±89° or 178° total / Vertical: ±89° or 178° total

LCD panel: 500 nits
IntelliTouch: 450 nits

Response Time-total (typical)

Controls: located on the back
Languages: multilingual

Analog VGA, DVI video, DVI-HDMI

Input Video Signal Connector

Mini D-Sub 15-Pin VGA type, HDMI to DVI converter cable

Two 10 W built-in stereo speakers

PC:
VGA-in D-Sub 15HD
RS232 D-Sub9
3.5 mm PC audio input x1

AV Input:
Audio (left/right) for YPbPr x 1
Audio (left/right) x 1
CVBS in
Audio (left/right) in
S-Video in
HDMI

Horizontal: 30-63 kHz / Vertical: 56-75 Hz

Power Consumption (Typical)

31.3" x 19.2" x 4.9" / 794mm x 488mm x 125mm

35.5" x 24.09" x 10.98" / 903 mm x 612 mm x 279 mm

0°C to 40°C / 32°F to 104°F

-10°C to 60°C / 14°F to 140°F

Relative: 5%–90%
Operating: 20%-80%
Storage: 20%-80%
noncondensing

400 x 200 mm VESA mount
Wall mounting solutions available via third party purchase

Stand option: Removable, reverse (wall mount), pivot (landscape/portrait mode)
Network controllable
Remote control
Table top stand
Security lock receptacle

Touchscreen sealed to bezel
Touchscreen sealed to LCD

50,000 hours to half brightness

Regulatory approvals and declarations

Optional Accessories/Peripherals

IntelliTouch SAW Stylus pen with rubber tip - Elo p/n: D82064-000
---
Get Started with Elo Today.