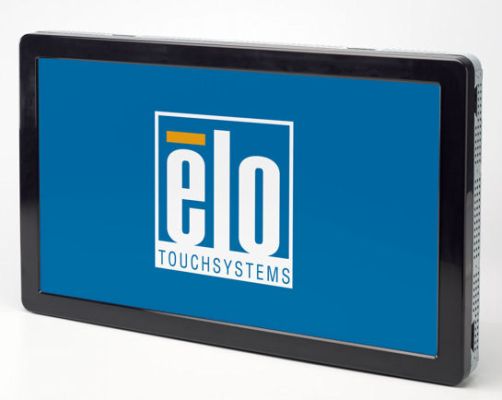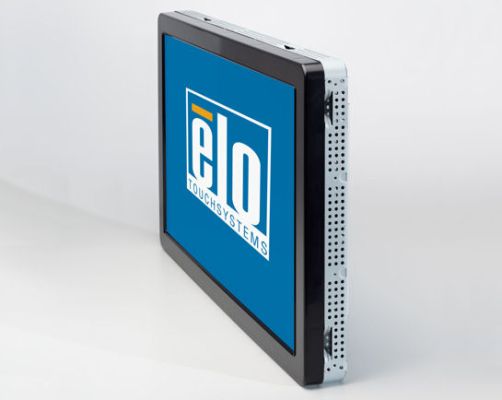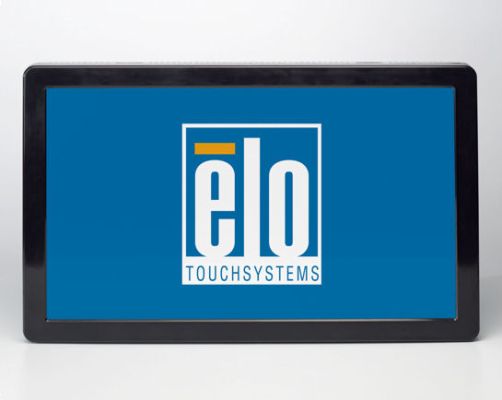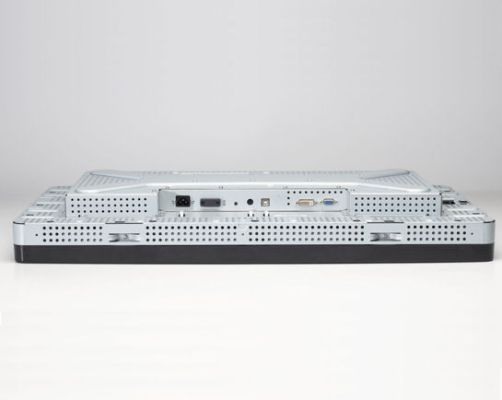 3239L 32" Open Frame Touchscreen (Discontinued July 2014)
Overview
The 3239L open-frame touchmonitor delivers a cost-effective touch solution for OEMs and systems integrators, and complements the expanded family of Elo touch solutions for gaming and amusement, retail self-service and digital signage applications. This compact touchmonitor is "designed for touch," with proven expertise and reliability built-in, not added as an afterthought by altering an existing monitor.
The 3239L features a brilliant wide-viewing-angle LCD panel to instantly grab and hold the user's attention, whether they are checking out retail goods with a selfservice kiosk, interacting with a digital signage application or playing games in a casino or arcade. Because the enclosure is controlled by Elo specifications and tooling, the Elo open-frame monitors have a long-lasting product cycle, which is important to maintain continuity through all phases of project rollouts and servicing. The 3239L features a unique, injection-molded bezel with a virtually invisible water-resistant seal, making it a good choice for the rigors of public use. Narrow borders, multiple mounting options, and a dual serial/USB touch interface add to the versatility of the 3239L. Worldwide agency approvals cover the entire monitor that is designed, built and supported by Elo, a true single-source supplier.
The 3239L is available with IntelliTouch surface acoustic wave touch technology. The comprehensive range of features includes analog and digital interfaces, multi-lingual on-screen display (OSD), mounting VESA standard, mounting brackets, cabled remote on-screen display (OSD), and worldwide compliance.
Features
A bright, high-contrast display with wide viewing angle easily attracts and holds the user's attention.
IntelliTouch (surface acoustic wave) technology offers high quality optics, durability, and long-term reliability.
Integrated precision minibezel with water-resistant 0.5 mm seal
The enclosure is controlled by Elo specifications and results in a long-lasting product cycle.
Multiple mounting options are available.
Dual serial and USB connectivity are standard.
Worldwide agency approvals and a three-year standard warranty are backed by Elo.
Specifications
Technical

---

IntelliTouch (Clear, Americas) - E526000
IntelliTouch (Clear, Asia/Pacific) - E839830
IntelliTouch (Clear, EMEA) - E162387

Touch Technology & Capacity

SAW (IntelliTouch® Surface Acoustic Wave) - Single Touch

32'' diagonal, Active matrix TFT LCD (LED)

Controls (back): menu, up, down, select
Settings: automatic adjustment, contrast, brightness, H/V position, clock, phase, color temperature, input video select, OSD H/V position, OSD timeout, recall color, recall default, sharpness, display information
Languages: English, French, Italian, German, Spanish, Japanese, Traditional Chinese, Simplified Chinese
Lockouts: power, user controls

27.5" x 15.4" / 698 mm x 392 mm

Other Supported Resolutions

640x480 @ 60Hz
800x600 @ 56Hz, 60Hz
1024x768 @ 60Hz
1280x960 @ 60 Hz
1280x1024 @ 60Hz
1360x768 @ 60 Hz
1366x768 @ 60 Hz
1440x900 @ 60 Hz
1600x1200 @ 60 Hz
1680x1050 @ 60 Hz

Horizontal: ±89° or 178° total / Vertical: ±89° or 178° total

LCD panel: 450 nits
IntelliTouch: 405 nits

Response Time-total (typical)

Analog VGA, DVI video (Asia and EMEA models without DVI)

Input Video Signal Connector

Mini D-Sub 15-Pin VGA type, DVI-D connector

Horizontal: 30-75 kHz
Vertical: 48-63 Hz

Power Consumption (Typical)

145W typical; 190W max. at 110V/60Hz input)

30.9" x 18.7" x 4.3" / 784 mm x 474 mm x 110 mm

39.4" x 13.4" x 26.8" / 1000 mm x 340 mm x 680 mm

0°C to 40°C / 32°F to 104°F

-20°C to 60°C / -4°F to 140°F

Operating: 20%-80%
Storage: 10%-90%

Touchscreen sealed to bezel
Touchscreen sealed to LCD

50,000 hours demonstrated

Regulatory approvals and declarations

Australia C-Tick, China CCC, Japan VCCI, Korea EK, MIC, Taiwan BSMI, Argentina S-mark, UL, cUL, FCC, Mexico NOM, CE, Russia PCT, China RoHS, WEEE, IMERC

200mm x 100mm VESA mount
Mounting brackets included

Options / Peripherals / Upgrades

Replacement Cable Kit - Elo P/N: E378229
IntelliTouch Stylus Pen - Elo P/N: D82064-000
Elo Remote OSD (With 1.8 m cable) - Elo P/N: E622897

Optional IntelliTouch Stylus Pen

Stylus pen with rubber tip, designed specifically for use with IntelliTouch surface wave touch technology. Part number D82064-000, available at additional cost
---
Resources
(17)
Collateral

Drawings and Certificates

---

User Guides

---

Additional Support Resources

---
Get Started with Elo Today.