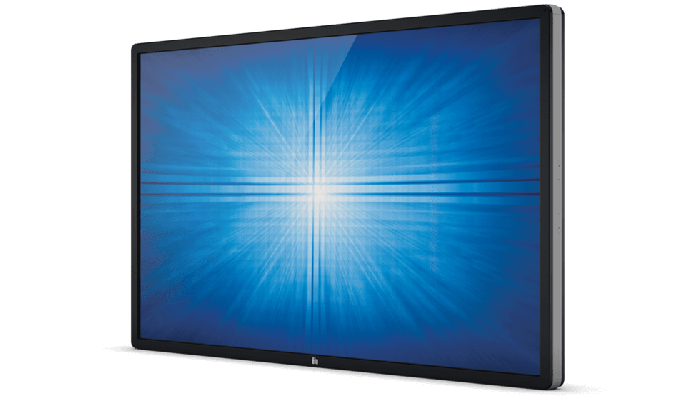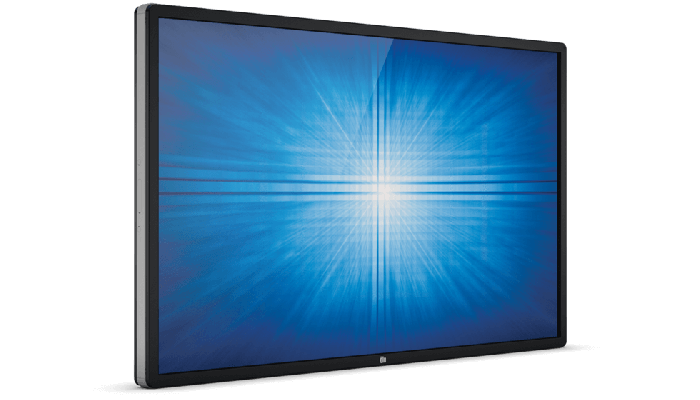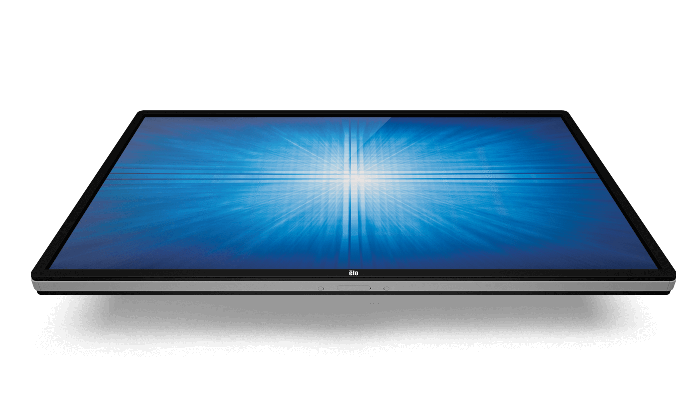 5501LT 55" Interactive Digital Signage (Discontinued September 2017)
Overview
Elo's 5501LT 55-inch interactive digital signage delivers a professional-grade large format touchscreen in a slim, integrated package. Designed from the bottom up for retail, hospitality, enterprise, commercial real estate, education, corporate meeting rooms, lobbies and other commercial applications, the large widescreen 5501LT offers a bright, 500-nit LED panel, with a high-quality, interactive canvas for attracting and engaging consumers. The 5501LT provides a high-performance solution that is easy to deploy and maintain in public environments.
Thinner & lighter.

At 3.4 inches thin, the 5501LT is compliant with the ADA requirement of less than 4-inch protrusion for wall-mounted products when used with an Elo low-profile mount.

Integrated touch.

Elo's products are factory-built touch systems with durability built in, not snapped on, preventing any "double bezel" appearance or rattling when touched. The Elo 5501LT is housed in a highly durable steel chassis for a long life of reliable performance with a pure-glass touchscreen designed to deliver crystal-clear images. Available with infrared touchscreen technology with a traditional bezel construction, the 5501LT delivers a sensitive multi-touch response with any input device that can be easily integrated into kiosks.

Processing power.

Optional, high-performance computer modules are available to turn the 5501LT into a completely integrated all-in-one computer without the need for any cables or additional mounting hardware. The commercial-grade computer modules, available with Microsoft Windows with Intel Core or Android with Qualcomm Snapdragon (supports EloView®), make the Elo 5501LT IDS display a reliable platform that is interoperable with most content management servers and supports optimal partitioning of locally cached and network streamed content.
Other features.
Professional-grade hardware with strengthened touchscreen glass to withstand the rigors of public use
Three-year standard warranty (worldwide) with on-site exchange (NA only) / two-year extended warranty option available (NA and EMEA only)
Remote management capability for device hardware with support for future cloud applications
Intel OPS compliant with available adapter kit
Flexible mounting in portrait, landscape and table-top orientation
Specifications
Technical

---

Infrared (Worldwide) - E268254

Touch Technology & Capacity

54.6'' diagonal, Active matrix TFT LCD (LED)

47.6" x 26.8" / 1209.6mm x 680.4mm

Horizontal: ±89° or 178° total / Vertical: ±89° or 178° total

LCD Panel: 500 nits
IR: 450

Response Time-total (typical)

Controls: Menu, Up, Down, Select, Power

Video Settings: Brightness, Contrast, VGA Settings (if available), Clock, Phase, Auto-Adjust, H-position, V-position, Aspect Ratio, Sharpness, Color Temperature, OSD Timeout, OSD Language, OSD H-Position, OSD V-Position, Recall Defaults, Video Source

OSD Timer: Change between 5 and 60 seconds

Color Adjust: 9300K, 7500K, 6500K, 5500K and User mode

Color Reference: Standard, Gaming, Movie, Photo, Webcam, Blur

Saturation and Hue: In any mode other than Standard mode

Audio: From Video Source, From Line-in and ECM Line-in

Audio Controls: Mute, Volume up and Down

Video: Choose from VGA, HDMI, DisplayPort, Elo Computer Module

MDC Protocol: IIC or RS232

Black Level: Standard, 5%, 10% and 20% Offset

Light Sensor enable/disable: Sharpness Level

Aspect Ratio: Fill Screen, Fill to Aspect Ratio and Direct Output

Languages: English, French, Italian, German, Spanish, Simplified Chinese, Traditional Chinese, Japanese

Lockouts: OSD, Power

Other Settings: Power Behavior, Tabletop mode, Information, MDC Protocol, Support and Help, System Temperature and Exit
Accessible through switches on the unit's tethered OSD control box.

Input: AC power, RJ45 Remote Connector, VGA, HDMI, DisplayPort, USB type B, Audio Line In
Output: Headphone Out

Analog VGA, HDCP-capable HDMI 1.3, Display port 1.1a.

Input Video Signal Connector

Female DE-15 for Analog VGA
HDMI Type A receptacle Display part 1.1a Connector.

Horizontal: 31.5 - 73 KHz
Vertical: 47 - 63 Hz

1Vrms max stereo signal (standard PC line out)

Headphone Output Connector

Internal 4 x 5W stereo speakers

Power Consumption (Typical)

Monitor Only
(Typical at 120V at 60Hz): ON: 122 W; SLEEP: 13 W; OFF: 1.6 W
(Typical at 230V at 50Hz): ON: 120 W; SLEEP: 12 W; OFF: 1.8 W

49.8" x 29" x 3.4" / 1267mm x 738mm x 87mm

55.9" x 9.2" x 34.6" / 1420mm x 235mm x 880mm

Monitor Only: 98.9 lbs / 44.85 kg
Monitor with Computer Module: 103.2 lbs / 46.82 kg

Monitor Only: 119.4 lbs / 54.2 kg
Monitor with Computer Module: 123.8 lbs / 56.17 kg

0°C to 40°C / 32°F to 104°F

-20°C to 50°C / -4°F to 122°F

Operating: 20% to 80%
Storage: 10% to 95%

VESA 4-hole mount per MIS-F, 600, 600, 6mm

Touchscreen sealed to bezel; Touchscreen sealed to LCD

50,000 hours demonstrated

Optional Product Coverage

Extended Warranty (North America and EMEA only)

Regulatory approvals and declarations

UL, FCC Class A, cUL, IC, CB, CE Class A

QIG, JP Class A Kiosk Info, HDMI cable, USB cable VGA+RS232 Y-cable, standard VGA cable, 3.5mm audio cable, power cable (NA, EU/KR, UK, AR, CH, and JP plugs), 3-pin to 2-pin adapter for JP power cable, Energy label according to EU Regulation 1062/2010

i3 3.4 GHz ECMG2 - No OS for IDS 01 Series - Elo P/N: E001292
i3 3.4 GHz ECMG2 - Windows 7 for IDS 01 Series - Elo P/N: E001293 
i3 3.4 GHz ECMG2 - Windows 8.1 for IDS 01 Series - Elo P/N: E001294
i3 3.4 GHz ECMG2 - Windows 10 for IDS 01 Series - Elo P/N: E991018 
i5 3.7 GHz ECMG2 - No OS for IDS 01 Series - Elo P/N: E001295
i5 3.7 GHz ECMG2 - Windows 7 for IDS 01 Series - Elo P/N: E001296 
i5 3.7 GHz ECMG2 - Windows 8.1 for IDS 01 Series - Elo P/N: E001297 
i5 3.7 GHz ECMG2 - Windows 10 for IDS 01 Series - Elo P/N: E991722
i7 4.0 GHz ECMG2 - No OS for IDS 01 Series - Elo P/N: E001298 
i7 4.0 GHz ECMG2 - Windows 7 for IDS 01 Series - Elo P/N: E001299 
i7 4.0 GHz ECMG2 - Windows 8.1 for IDS 01 Series - Elo P/N: E001300
i7 4.0 GHz ECMG2 - Windows 10 for IDS 01 Series - Elo P/N: E992193 
ECMG2 Android Computer Module Kit for IDS 01 Series - Elo P/N: E000739
Web Cam Kit - Elo P/N: E688656
NFC Adapter - Elo P/N: E918074
OPS Kit - Elo P/N: E102270
OSD Control Box - Elo P/N: E483757
Replacement Cable Kit - Elo P/N: E000263

Wall Mount Kit - Elo P/N: E248743
---
Configurations
(1)
Refine your search: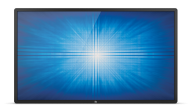 E268254
Infrared
10
clear
LCD Panel: 500 nits
IR: 450
4000:1
No Configurations found.
Resources
(20)
Collateral

Drawings and Certificates

---

User Guides

---

Additional Support Resources
Get Started with Elo Today.