Elo Edge Connect™ 3D Camera
Elo Edge Connect™ 3D Camera
With the rise of consumer demand for contactless ordering and payments, the Elo Edge Connect™ 3D camera can support rapid facial recognition and authentication capability. Designed to seamlessly integrate with a variety of Elo interactive displays, the sleek, compact form factor provides the depth sensing you need, making it well suited for self-service, access control and augmented reality and virtual reality applications.
With 3D technology, businesses can gain an extra layer of security with anti-spoofing and liveness detection capability to enhance biometric verification over a 2D camera. By using a projector to cast an infrared light pattern onto an object, the camera captures the reflections and adds a layer of depth to an image to create a 3D visual – delivering financial-grade security capability.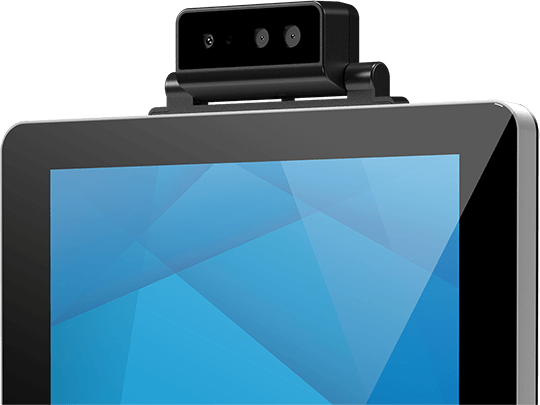 Delivering Speed & Security Where it's Needed Most
Whether you want to verify a known identity, scan items at checkout or create immersive experiences,
the 3D camera can do it all, making it well suited for almost any vertical.
Retail

Hospitality
Banking
Corporate
Easy Installation
Built on the Elo Edge Connect platform, the 3D Camera can be easily integrated with a variety of Elo touchscreens. Simply attach, orient the camera and get started.
Capabilities*
Facial Recognition
Offer up customized content that is tailored to a specific customers' preferences. From showing favorite menu items to adding promotional offers for frequently purchased items, with facial recognition you can provide a deeper connection to customers to increase their satisfaction with your brand.
Facial Authentication
From customer loyalty to checkout, the 3D camera can help retailers curate frictionless customer experiences. By validating a known identity via facial authentication, you can enable account access to customize content based on favorite items and initiate secure payment.
Gesture Tracking
Improve insights into your business and simplify customer engagement - from recognizing a person's facial expressions to reacting to their hand gestures, the 3D camera can be configured to provide both real-time analysis of customer behavior and enhanced customer interaction.
*The 3D Camera requires support of 3rd party software to enable capabilities specified.
Access Control
Whether you are a traveler at an airport trying to get through security or an employee accessing a corporate building or point-of-sale system, leverage the 3D camera to help expedite authentication and authorization to decrease wait times while improving security.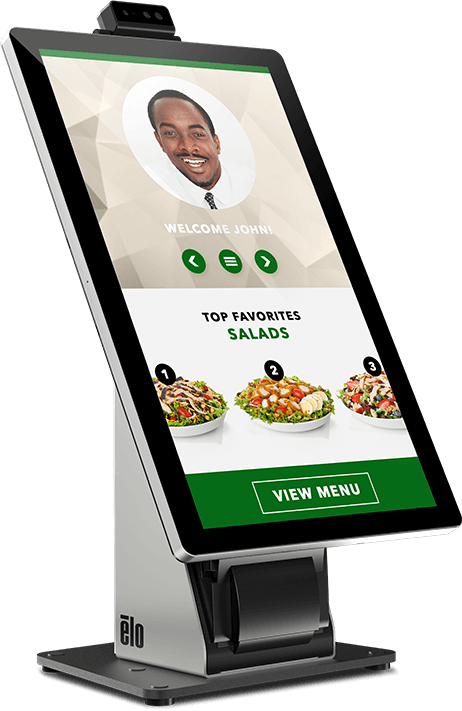 Build Customer Loyalty
& Simplify Payment
From retailers to QSRs and entertainment venues, enabling shorter wait times, increasing security and accelerating payment processing is important to enhance the customer experience. By implementing 3D cameras, businesses can not only recognize a customer approaching the kiosk, they can authenticate known customers and curate personalized experiences for them - allowing customers to access loyalty accounts, view favorite items and pay within seconds using their face for authentication.
Create Virtual
Experiences that Sell
With the 3D camera you can tailor in-store experiences – from the makeup counter to the fitting room - enabling VR/AR applications that allow customers to visualize makeup or clothing without physically wearing it. With the ability to augment customer experiences, stores can help customers find what they want quicker and easier.
Software Integration Ready
Elo's software-agnostic platform can easily integrate into Android- or Windows-powered applications. By leveraging the 3D Camera SDK, partners can create seamless communication between their software and Elo hardware.
Specifications
Technical

---

Black - E134699
White - E453940

I-Series 4 for Android
1302L, 1502LM, 1902L, 1903LM Touchscreen Monitors

0.82 ft to 4.92 ft / 0.25 m to 1.5 m


Depth Resolution Frame Rate
1280 x 800 @ 30fps
640 x 400 @ 60fps

RGB Resolution Frame Rate
1920 x 1080 @ 30fps
1280 x 720 @ 30fps

Depth FOV - H67.9° V45.3° D78° ±3.0°
RGB FOV - H71.5° V56.7° D84°

4.7" x 2.1" x 0.8" / 119.48 mm x 53.45 mm x 20.28 mm

6.9" x 4.5" x 2.7" / 175 mm x 114 mm x 69 mm

10°C to 40°C / 50°F to 104°F

0°C to 50°C / 32°F to 122°F

Operating: 20% - 80%
Storage: 10% - 90%

3D Camera
2 Mounting screws
2 Mylar screw covers
QIG
---
Get Started with Elo Today.