E898841 - Replaced by ECMG4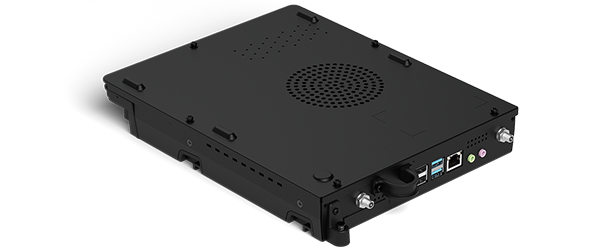 Elo ECMG4
Computer Modules
The Elo ECMG4 Computer Modules feature Intel® Core® 7th Generation CPUs with enhanced graphics performance. Available with Intel i5 processors for Microsoft Windows® 10 or no operating system, the commercial grade computer modules transform Elo's Large Format Interactive Displays into powerful all-in-one platforms. By adding touch to digital signage installations, you can create immersive brand experiences and self-service solutions to help increase customer engagement and satisfaction.
*14 Day Free Trial of AirServer Windows 10 Desktop Edition.
The all new AirServer for Windows 10 is a powerful universal mirroring receiver, $40 per year.
Smaller Form Factor
With dimensions of 11.07x8.2x1.7 the new ECMG4 form factor is 47% smaller than the previous model,
delivering a lower cost, lower energy consumption mini pc that's easier to install and maintain.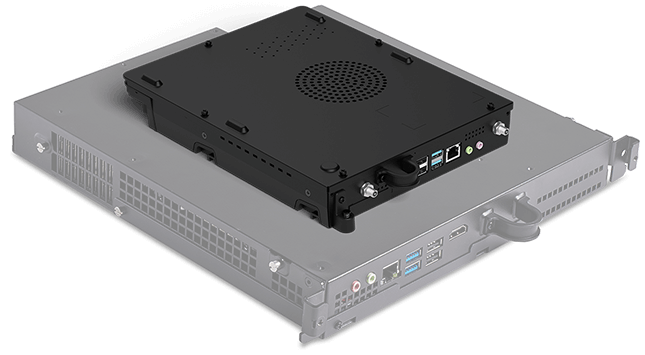 Key Features
CPU

Intel Core i5-7500T

GPU

Intel HD Graphics 630

Chipset

Intel H110 Chipset

OS

Windows 10 Enterprise 2019 LTSC 64-bit,
Windows 10 Enterprise 2019 SAC 64-bit or no OS

RAM

8 GB DDR4-2400 MHz SO-DIMM on
1 of 2 slots (expand to 64 GB) OS

Storage

256GB m.2
Solid State Drive (SSD)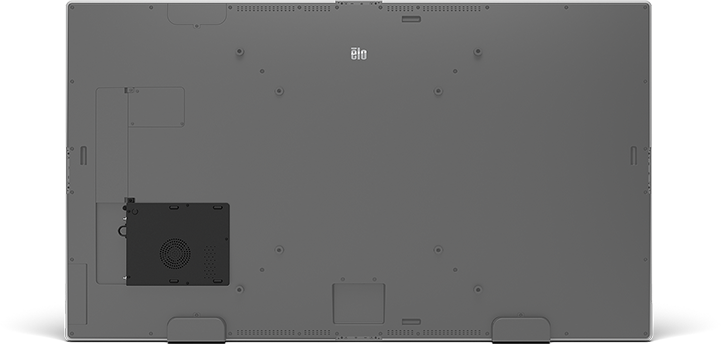 Easy Installation
The Elo IDS Computer Modules slide into the back of the touchscreen display to deliver the industry's thinnest commercial grade all-in-one large format touchcomputers. Field installation is easy with no external cables required. AC power, video and USB signals pass between the computer module and the Elo IDS touch display via an internal docking connector.
Connections

LAN

2x USB 2.0
Type A

2x USB 3.0
Type A

HDMI

3.5 mm line
out & mic in
Collaboration Ready
Pair the flexibility of Elo's 03/53-Series Interactive Boards with an intuitive dashboard, seamless bring-your-own-device content sharing and robust annotation and whiteboarding software – delivering employees and corporations countless benefits. Elo's ECMG4 comes conferencing ready with DisplayNote Launcher and Montage as well as Qwizdom's whiteboarding software included. From increased efficiency to controlled costs – start connecting teams and information in real time to empower better, faster, more reliable decision making and improving the way collaboration works.
*Applies to P/N: E405488 only
Built-to-Last
The Elo Computer Modules deliver the quality and
reliability Elo is known for and are backed by our
3-year standard warranty with an optional extension
to 4 or 5-years. We design and build the complete
solution, with touch integrated from the start.
Specifications
Technical

---

i5-7500 ECMG4 - Windows 10 (LTSC) with DisplayNote Montage Software - Elo P/N: E898841

Compatible with
3203L TouchPro
4303L TouchPro and IR
5553L TouchPro and IR
6553L TouchPro and IR

Intel Core i5-7500T Processor
(6M Cache, up to 3.30 GHz)
6 MB Intel Smart Cache
8 GT/s Direct Media
Interface 3 (DMI3)

8 GB DDR4-2400 MHz SO-DIMM on 1 of 2 slots
16 GB DDR4-2400 MHz SO-DIMM on 1 of 2 slots (E405488 only)

*Maximum memory using 2 slots. Expandable to 64 GB maximum on 2 slots. DDR4-2133/2400 @ 1.2V

256GB m.2 Solid State Drive (SSD)

GB equals one billion bytes when referring to storage capacity. Accessible capacity may be less.

IEEE 802.11 a/b/g/n/ac (downlink MU-MIMO)

2 x USB 2.0 Type A
2 x USB 3.0 Type A

1 x 3.5 mm Line out
1 x 3.5 mm MIC in

Windows 10 Enterprise 2019 LTSC 64-bit (Montage)

Power provided by IDS display

11.07" x 8.2" x 1.7" / 281.1 mm x 208.2 mm x 43 mm

28.74" x 20.47" x 13.78" / 730 mm x 520 mm x 350 mm

0°C to 40°C / 32°F to 104°F

-30°C to 60°C / -22°F to 140°F

Operating: 20% to 80%
Storage: 10% to 90%

50,000 hours demonstrated

QIG
2x WiFi/BT Antenna
4x M6x50 screws
4x M8x50 screws
4x Spacers

Regulatory approvals and declarations

UL/cUL, CB, FCC, CE, AS, NZS, VCCI

4 year warranty coverage - Elo P/N: E896120
5 year warranty coverage - Elo P/N: E896322
3 year warranty coverage + AUR - Elo P/N: E896699
4 year warranty coverage + AUR - Elo P/N: E896903
5 year warranty coverage + AUR - Elo P/N: E897104
---
Get Started with Elo Today.