Helping Businesses Stay Connected
As corporate offices begin to open, collaboration via video conferencing will be essential in this new hybrid working environment of office-based and remote employees. By pairing Elo's Huddle Kit with an award-winning interactive display, IT leaders can simply add their collaboration software to provide a complete interactive system that fosters engagement amongst users, regardless of location.
Each kit includes Elo's Conference Camera and i5 Windows 10 Computer Module complete with a pre-loaded intuitive dashboard for easy navigation to the pre-installed whiteboarding and wireless BYOD content-sharing software. The dashboard also allows for quick access to any 3rd party video conferencing and office productivity software.
Elo Interactive Huddle Solutions
Purpose-built to make collaboration easy – simply connect the Huddle Kit with an Elo large format interactive display to create a robust huddle room solution.
Software
Complete with DisplayNote Launcher's intuitive dashboard for easy navigation to your collaboration apps, Montage for your wireless BYOD content sharing, and Qwizdom's robust annotation and whiteboarding solutions.*
32" to 65" Interactive Displays
Elo's Interactive Displays, available in PCAP or IR with anti-glare, offer a sleek, slim design built to withstand the rigors of continuous commercial use.
Conference Camera
The Conference Camera delivers full HD video with wide viewing angles, an adjustable slider and a 30° tilt that supports both vertical and horizontal adjustment.
Elo Computer Module
Elo's powerful i5 Windows 10 computer module seamlessly integrates with the 03/53-Series displays, making installation a breeze. And with an open platform to support enterprise applications, simply load your 3rd-party software and start collaborating.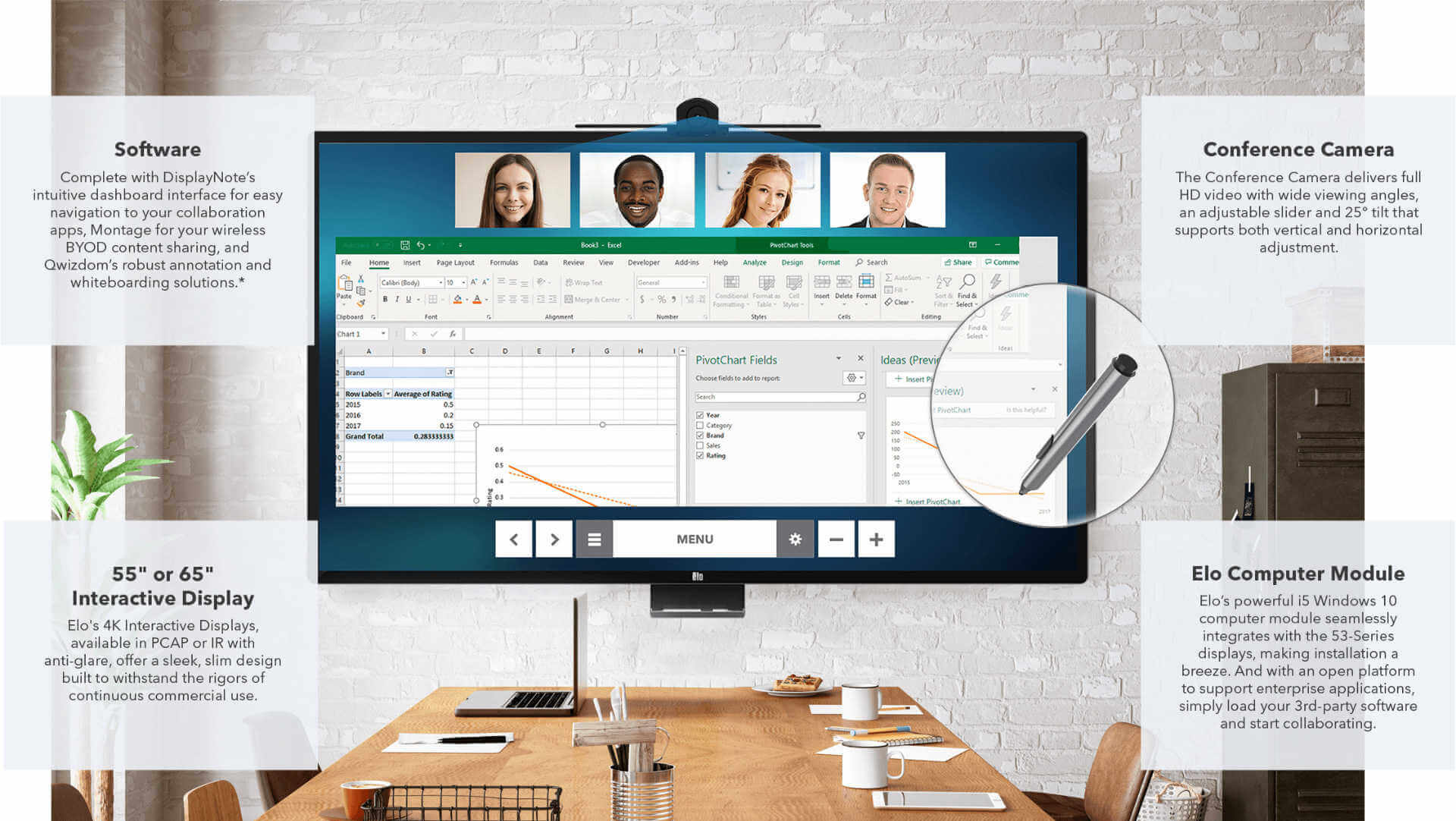 *Perpetual Qwizdom Whiteboarding license
30 Day Free Trial of DisplayNote Launcher and Montage Wireless Content Sharing Software
14 Day Free Trial of AirServer Windows 10 Desktop Edition
Benefits

One Manufacturer
All components have been purpose-built to seamlessly integrate creating a turnkey solution driven by a single power supply.
Easy Installation
Get your meeting spaces set up in minutes. Simply slide in the computer module, attach the Conference Camera and Stylus Kit and mount the display to the wall – all with a single cable to power everything. Now that's collaboration that can scale.

Enterprise-grade
Backed by Elo's 3-year standard warranty and industry leading support, each component has been designed to withstand the demands of commercial environments. Pair with an Elo interactive display to create a robust all-in-one enterprise-ready collaboration solution.
Compatibility
Backed by a Windows 10 operating system, the Elo Huddle Kit offers a software agnostic platform supporting all major web conferencing applications including Microsoft Teams, Zoom, Cisco Webex, GoToMeeting and BlueJeans. By utilizing a familiar windows interface, companies can get up and running quickly without limitations and cumbersome training.
Collaboration Ready
Whiteboarding
The user-friendly annotation and whiteboarding software from Qwizdom provides corporate environments with a full set of easy to use features – from multi-user writing and drawing to handwriting recognition, graphical input and full multimedia integration and capture, with either a stylus or your finger.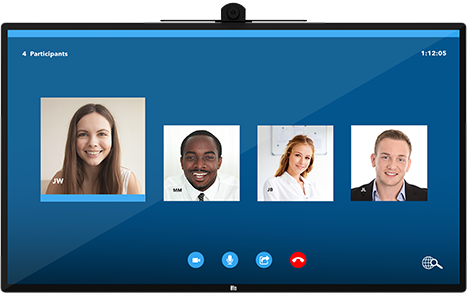 Video Conference
Enhance teamwork and collaboration in real time with Elo's interactive display and conference camera. Designed for conference and huddle rooms, the simple and seamless solution delivers full HD video making it feel like an in-person meeting.
Wireless Content Sharing
DisplayNote Montage BYOD software enables wireless content sharing from any device onto your Elo display with no messy cables or time-consuming connection struggles. Connect teams and information in real time to empower faster, more reliable decision making and collaboration.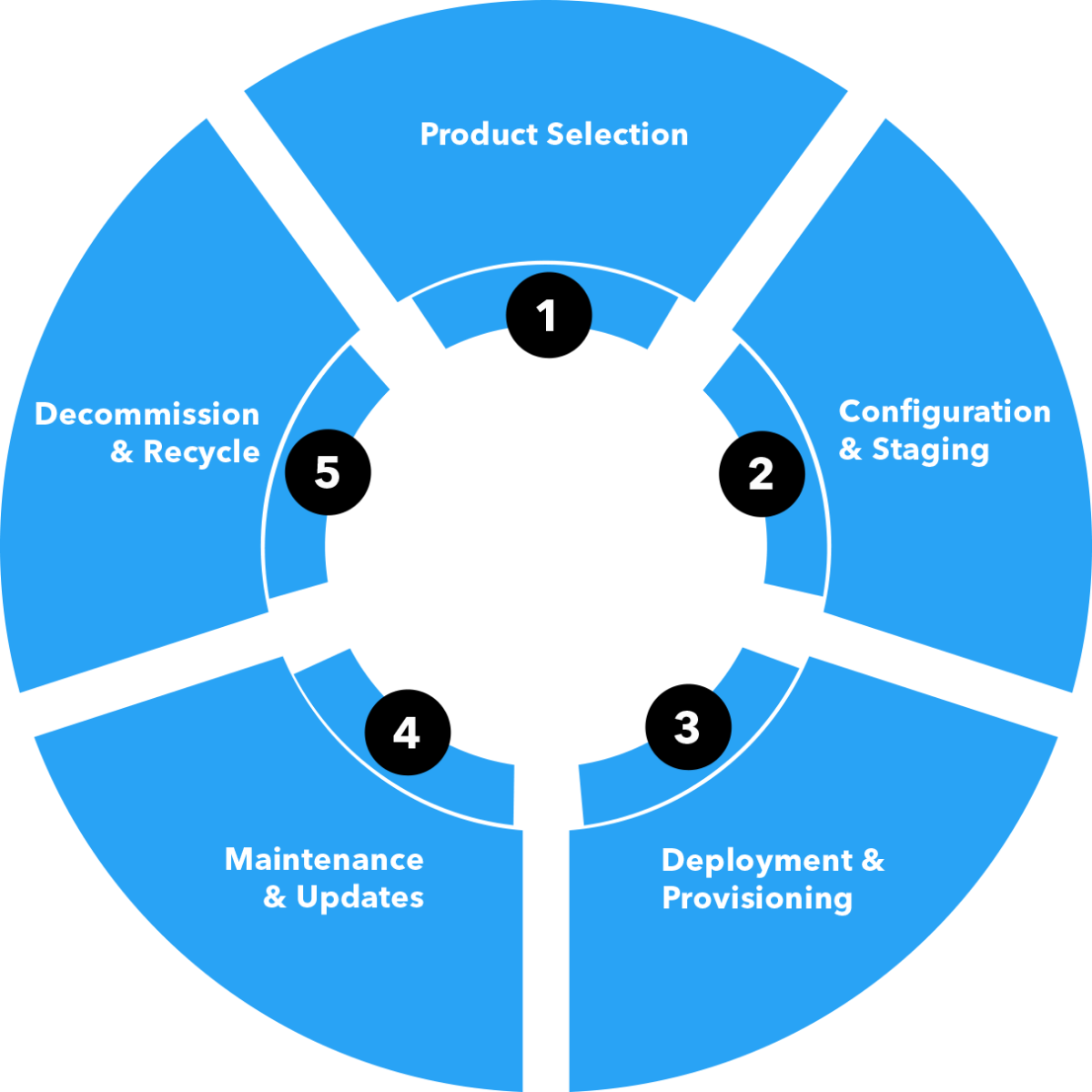 Professional Services
With EloCare℠ Professional Services, we make it easy to get projects done right by providing you with dedicated project managers to support you through important stages of your product lifecycle.
Whether managing the full scope of a major implementation or utilizing Elo resources to enhance your existing capabilities, EloCare Professional Services provides the support necessary to drive successful execution of your project.
Get Peace of Mind with EloCare
Elo offers a complimentary three-year standard warranty on all Huddle Kits with optional advance unit replacement coverage in the unlikely event your hardware requires service. It's easy to enroll and simple to use, minimizes downtime, and reduces your overall hassle of ownership. In the event your device requires service, simply submit a Return Material Authorization (RMA) request through Elo's online portal. If phone support doesn't resolve the issue, we will ship you a replacement unit the next business day. Additionally, Elo offers optional four- and five-year extended warranty coverage.
*Advance unit replacement and extended warranty options apply to ECMG4 only.
Commercial-Grade Products Designed for
Commercial-Grade Environments

Backed by our 3-year
standard warranty

Purpose built for
collaboration

Ready for
Use 24/7

Free Technical Support with
Standard Warranty
Specifications
Technical

---

17.52" x 6.06" x 26.38" / 445 mm x 154 mm x 670 mm

3203L TouchPro
4303L TouchPro and IR
5553L TouchPro and IR
6553L TouchPro and IR

Mounting the camera to the bottom port will limit compatibility to Windows, Mac, or Ubuntu (with a VLC player) and limits resolution to 720p

i5 Win 10 Computer Module (ECMG4) - Elo P/N: E405488
Conference Camera – Elo P/N: E277819 (includes AEC cable)
2x Active Stylus (for PCAP only) – Elo P/N: E216215 (includes 2x AA battery)
2x Passive Stylus (for IR only) – Elo P/N: E727568
Stylus Tray
2x WiFi/BT Antenna
4x M6x50 screws
4x M8x50 screws
4x Spacers
2x thumb screws for Stylus Tray
2x thumb screws for Conference Webcam
Whiteboard License Card
DisplayNote Launcher License Card
DisplayNote Montage License Card
Quick Install Guide

Elo Computer Module (ECMG4)

Intel Core i5-7500T Processor
(6M Cache, up to 3.30 GHz)
6 MB Intel Smart Cache
8 GT/s Direct Media
Interface 3 (DMI3)

Thermal Design Power (TDP)

16 GB DDR4-2400 MHz SO-DIMM on 1 of 2 slots

*Maximum memory using 2 slots. Expandable up to 64GB maximum. DDR4-2133/2400 @ 1.2V

256GB m.2 Solid State Drive (SSD)

GB equals one billion bytes when referring to storage capacity. Accessible capacity may be less.

2 x USB 2.0 Type A
2 x USB 3.0 Type A

IEEE 802.11 a/b/g/n/ac (MU-MIMO)

1 x 3.5 mm Line out
1 x 3.5 mm MIC in

Power provided by compatible Interactive Display

DisplayNote Montage and Launcher – with 30 day trial licenses
Qwizdom Oktopus Whiteboard - with perpetual license

0°C to 40°C / 32°F to 104°F

-30°C to 60°C / -22°F to 140°F

Operating: 20% to 80%
Storage: 10% to 90%

4 year warranty coverage - Elo P/N: E896120
5 year warranty coverage - Elo P/N: E896322
3 year warranty coverage + AUR - Elo P/N: E896699
4 year warranty coverage + AUR - Elo P/N: E896903
5 year warranty coverage + AUR - Elo P/N: E897104

Vertical: 65° ± 5%
Horizontal: 80° ± 5%
Diagonal: 96° ± 5%

Analog Mic with Acoustic Echo Cancellation (AEC)

Supported Video Resolutions

FHD (1920 x 1080)
HD (1280 x 720)
VGA (640 x 480 and 640 x 360)
---
Get Started with Elo Today.