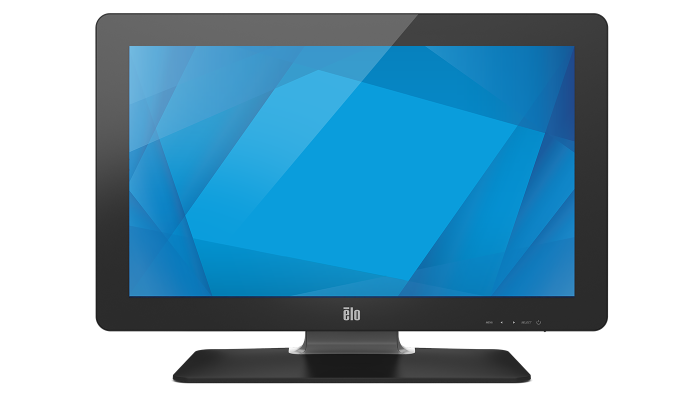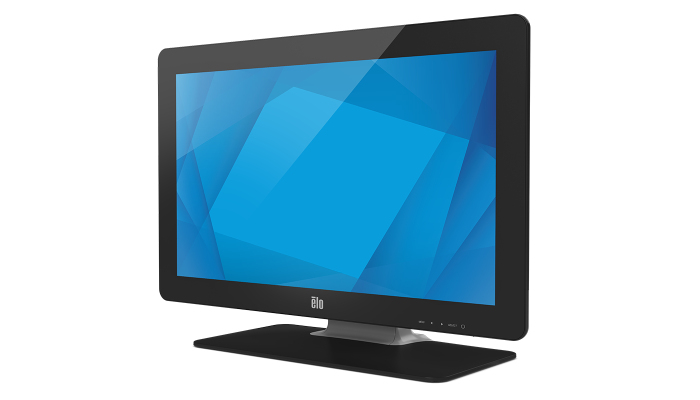 2201L 22" Touchscreen Monitor (Replaced by 2202L)
Be sure to check out the newer model - 2202L
Overview
The 2201L wide-aspect 21.5 -inch LCD touchscreen monitor offers a flexible, space-saving design. Built to meet the durability and aesthetic requirements for a variety of high traffic retail and hospitality interactive solutions, the 2201L offers built-for-touch reliability with Elo's three-year standard warranty. The touchmonitor is available with industry-leading Elo touch technologies and multiple mounting options to support most applications. The 2201L is ultra-efficient using state-of-the-art LED technology to reduce energy usage.
Integrated touch.

The 2201L features a choice of touchscreen technologies: IntelliTouch® surface acoustic wave (SAW) with a dual touch experience and IntelliTouch zero-bezel with an accurate single touch response. For a 10-touch tablet like experience, TouchPro® PCAP offers a clean edge-to-edge glass design perfect for multi-user interaction with fast and extremely sensitive responses right out of the box.

Flexible mounting.

The Elo 2201L offers multiple mounting options to ensure installation flexibility including: wall-, arm- and pole-mount via standard VESA mount patterns as well as tabletop accommodations with the use of the desktop stand.

Wide benefits.

Wide-aspect displays like the Elo 2201L are easier to use and incorporate into the workplace than traditional desktop monitors. Widescreen format displays accommodate extra content on screen and are quickly becoming preferred in corporate environments for publishing and dual window applications, and are popular in public venue environments due to a high-definition cinematic-like experience.

Commercial grade.

The 2201L touchscreen monitor delivers the quality and reliability Elo is known for and is backed by our three-year standard warranty. All our products go through rigorous reliability testing (over 20 tests) to deliver 50,000 MTBF.
Other features.
High definition LED display offers ultimate FHD interactivity, clarity and resolution
16:9 aspect ratio panel
USB touch controller, DVI, VGA and built-in speakers for a rich audio experience
LED backlighting delivers a state-of-the-art slim design, while reducing power consumption
Ruggedized for use in high-traffic environments
Three-year standard warranty
Specifications
Technical

---

IntelliTouch ZB (Worldwide) - E382790
IntelliTouch Dual-Touch (Worldwide) - E107766

Touch Technology & Capacity

SAW (IntelliTouch® Surface Acoustic Wave) - Dual Touch
SAW ZB (IntelliTouch® Surface Acoustic Wave) - Single Touch

22'' diagonal, Active matrix TFT LCD (LED)

18.8" x 10.6" / 476mm x 268mm

Other Supported Resolutions

640 x 480 60Hz
720 x 576 50Hz
800 x 600 56, 60Hz
1024 x 768 60Hz
1280 x 720 50, 60Hz
1280 x 960 60Hz
1280 x 1024 60Hz
1366 x 768 60Hz
1440 x 900 60Hz
1680 x 1050 60Hz
1920 x 1080 50, 60Hz

Horizontal: ±89° or 178° total / Vertical: ±89° or 178° total

LCD Panel: 250 nits
IntelliTouch DT: 225 nits
IntelliTouch ZB: 225 nits

Response Time-total (typical)

Analog VGA on Female DB-15 connector; Digital DVI on Female DVI-D connector

Horizontal: 32 - 80 KHz
Vertical: 50 - 75 Hz

Headphone Output Connector

DC (external power adapter included with unit)

Coaxial power jack (2.0mm (+0.0 -0.1mm) pin outer diameter, 6.4mm (+/- 0.3mm) barrel inner diameter, 8.8mm (+/- 0.3mm) Barrel depth)

Adapter Input Voltage Range

Power Consumption (Typical)

ON (monitor + adapter): 26.04W
SLEEP (monitor + adapter): 0.83W
OFF (monitor + adapter at): 0.67W

Two x 2W internal speakers

Controls: Menu, Up, Down, Select

Settings: Brightness, Contrast, Clock, Phase, H-position, Vposition, Auto-Adjust, Aspect Ratio, Sharpness, Color Temperature, OSD Timeout, OSD Language, OSD Rotation, Volume, Mute, Recall Defaults, Video Source

Languages: English, French, Italian, German, Spanish, Simplified Chinese, Traditional Chinese, Japanese

Lockouts: OSD, Power

Monitor Dimensions (with Stand)

21.7" x 15.4" x 7.6" / 551mm x 392mm x 193mm

20.5" x 27.2" x 11.0" / 520mm x 690mm x 280mm

0°C to 40°C / 32°F to 104°F

-20°C to 60°C / -4°F to 140°F

Operating: 20% to 80%
Storage: 10% to 95%

Touchscreen sealed to bezel; Touchscreen sealed to LCD

50,000 hours demonstrated

VESA 4-hole 100mm mounting interface on rear of unit
4-hole 200x100mm threaded mounting on bottom of stand

4 year warranty coverage - Elo P/N: E898247
5 year warranty coverage - Elo P/N: E898449
3 year warranty coverage + AUR - Elo P/N: E898648
4 year warranty coverage + AUR - Elo P/N: E894921
5 year warranty coverage + AUR - Elo P/N: E895125

Regulatory approvals and declarations

Australia RCM
Canada cUL, IC
China CCC
Europe CE
United Kingdom UKCA
Japan VCCI
Korea KCC, e-Standby
Mexico CoC
Russia EAC
Taiwan BSMI
United States UL, FCC
International CB
RoHS, China RoHS, WEEE, IMERC

For P/N: E382790 and E107766 - Touchmonitor, TouchTools CD, Quick Install Guide, JP regulatory pamphlet, Cables – DVI, VGA, USB, Audio, AC-DC power adapter, NA and EU power cables.

For P/N: E110488 - Touchmonitor, TouchTools CD, Quick Install Guide, JP regulatory pamphlet, Cables –DVI, VGA, USB, Audio, AC-DC power adapter, CCC power cable.

Replacement DC Power Supply

The monitor may be powered with DC voltage. An optional 12V DC power brick is available at additional cost.

Replacement power brick kits - 50W power adapter + regional power cable-C13 type
United States: E005277
Europe & Korea: E571601
United Kingdom: E180092
China: E558862
Taiwan: E818655
Japan: E182546
Argentina: E887099

Optional IntelliTouch Stylus Pen

Stylus pen with rubber tip, designed specifically for use with IntelliTouch SAW touch technology. Elo P/N: D82064-000, available at additional cost.

Touch/Video/Audio/Accessory Cables:

Detachable touch, audio, power (for all regions) and video cables are included.

Magnetic Stripe Reader (MSR) – Elo P/N: E757859
---
Configurations
(2)
Refine your search:
E382790 (Worldwide)
Black
USB
No-Bezel
clear
IntelliTouch® ZB - SAW
E107766 (Worldwide)
Black
USB
Bezel
clear
IntelliTouch® - SAW
No Configurations found.
Resources
(23)
Collateral

Drawings and Certificates

---

User Guides

---

Additional Support Resources

---
Get Started with Elo Today.