1002L 10" Touchscreen Monitor
Elo's 1002L
Touchscreen Monitor
The Elo 1002L Touchscreen Monitor is designed with the same seamless style that spans across the entire line up of 02-Series Monitors. With a compact form factor and clean design for easy integration, the 1002L offers the flexibility to install as a traditional POS terminal or a customer facing point of interaction - making it well-suited for point-of-sale, self-service, signage and hospitality applications. And with a variety of peripherals, the monitor can be transformed to meet the demands of almost any blueprint.
Single Cable Connection
The 1002L provides a USB Type-C interface that provides touch, video and power. By reducing the number of cables required for any set up from 3 to 1, installation and servicing is a breeze. In case your PC isn't equipped with USB Type-C yet, you can still use traditional HDMI or VGA to connect to your PC.
One for You.
One for Your Customers.
The 02-Series offers dual functionality. Use it as a traditional POS terminal or customer facing display – or BOTH! Start increasing brand loyalty and customer satisfaction by offering your customers a point of interaction to review transactions, participate in loyalty programs or see the latest promotion.
Well-Suited for…
Not all businesses have the same needs. Whether you need a touchscreen at the point of sale to process a transaction or in a restaurant to enable self-service for guests to view your menu and submit their order, the line of 02-Series monitors can support the installation needs with ease while maintaining a modern, sleek aesthetic.
Retail

Hospitality

Government

Restaurant

Industrial
Elo Edge Connect™ Lets You do More!
Built with versatility in mind, the Elo Edge Connect system offers a wide assortment of peripheral options. Whether for endless aisle, self-order or collaboration applications, you can seamlessly attach any combination of up to four peripherals to the edge of the touchscreen creating a bespoke solution. And, you can add or move them later as your needs change!
EMV Cradles

The ability to take payment is essential to complete a transaction. The 1002L offers compatible EMV cradles to securely mount an EMV Payment device directly to the display.

Barcode Scanner

Enhance POS terminals and price-checker applications by coupling a high-performance barcode scanner onto the Elo touchscreen.
Mount with Flexibility
Customers demand a seamless shopping experience from their first step into the store through check-out. From the stands that come with the monitors to pole mounts, shelf mounts, wall mounts and 3rd party kiosk enclosures, the touchscreens can be integrated with ease.
Brilliant Displays from 7 to 27-inches
The brilliant touchscreens with Elo's industry-leading TouchPro® PCAP technology offer wide viewing angles with impeccable image clarity, resolution, and light transmission for accurate touch response and vivid images. With up to 10 touches enabled, the 02-Series Monitors, provide a tablet-like experience.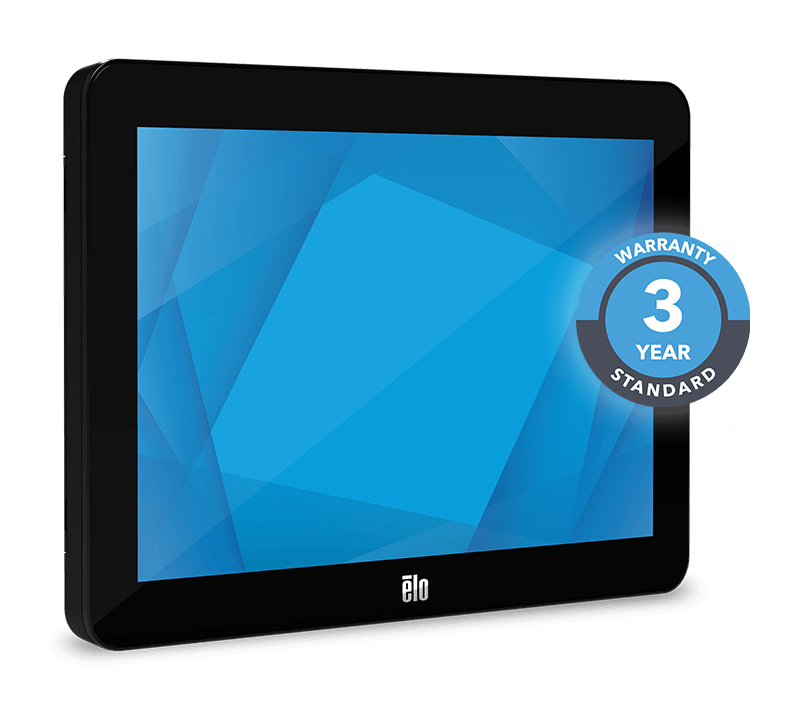 Built-to-Last
The 02-Series Touchscreen Monitors deliver the quality and reliability Elo is known for and are backed by our 3-year standard warranty with an optional extension to 5-years. We design, build, and stand by the complete solution, with touch integrated from the start.
Specifications
Technical

---

PCAP (Worldwide) - E155834
Non-Touch (Worldwide) - E324341

Touch Technology & Capacity

Non-Touch
PCAP (Projected Capacitive) - 10 Touch

10.1'' diagonal, Active matrix TFT LCD (LED)

1.12" / 28.45 mm panel depth

8.54" x 5.34" / 216.96 mm x 135.6 mm

Other Supported Resolutions

640 x 480 @ 60Hz
800 x 600 @ 60Hz
1024 x 768 @ 60Hz
1280 x 800 @ 60Hz
1920 x 1080 @ 60Hz
1920 x 1200 @ 60Hz

Horizontal: ±85° or 170° total / Vertical: ±85° or 170° total

LCD panel: 350 nits
PCAP + DC Power: 315 nits
PCAP + USB-C 5V power: 200 nits

Response Time-total (typical)

Accessible through switches along the bottom:

Controls: Menu, Up, Down, Select

Settings: Brightness, Contrast, Clock, Phase, H-position, V-position, Auto-Adjust, Aspect Ratio, Sharpness, Color Temperature, OSD Timeout, OSD Language, Volume, Mute, Recall Defaults, Audio Select, Video Priority, Information, Touch on Sleep Mode, Peripheral Port

Languages: English, French, Italian, German, Spanish, Japanese, Traditional Chinese, Simplified Chinese

Lockouts: OSD, Power

1 x USB Type-C
1 x Audio jack (Line-in)
1 x VGA (Micro-HDMI female connecter)
1 x HDMI
1 x 12V D/C input
3 x Micro-USB ports (Top, Left, Right) to support Elo Edge Connect peripherals

Analog VGA
HDMI
USB Type-C

Suggest using Elo USB Type-C to Type-C (Elo P/N: E710364) cable to prevent any compatibility issues

Horizontal: 31.5 - 80 KHz
Vertical: 60 Hz

Option 1: USB Type-C Input range: 5V±5% 3A/9V±5% 3A/15V±5% 1.8A/20V±5% 1.35A

Option 2: External DC Adapter 12V/36W in box
Monitor input power connector: Coaxial power jack (2.0mm (+0.0 -0.1mm) pin outer diameter, 6.4mm (+/- 0.3mm) barrel inner diameter, 8.8mm (+/- 0.3mm) Barrel depth)
Monitor input voltage range: 12VDC +/- 5%
Adapter output power connector: DC barrel plug (2.1mm (+/- 0.1mm) pin inner diameter, 5.5mm (+/- 0.05mm) barrel outer diameter, 9.5mm (+/- 0.3mm) Barrel length)
Adapter input voltage range: 100-240 VAC
Input frequency: 50-60 Hz

Power Consumption (Typical)

Monitor + AC/DC adapter
ON: 7.43 W
SLEEP: 1.26 W
OFF: 0.2 W

Monitor Dimensions (without Stand)

10.03" x 6.99" x 1.14" / 254.80 mm x 177.50 mm x 29.00 mm

12.4" x 9.57" x 5.67" / 315 mm x 243 mm x 144 mm

0°C to 40°C / 32°F to 104°F

-20°C to 60°C / -4°F to 140°F

Operating: 20% to 80%; Storage: 10% to 95% (38.7℃ max wet bulb temperature)

50,000 hours demonstrated

VESA 4-hole 75mm mounting interface on rear of unit

4 year warranty coverage - Elo P/N: E898247
5 year warranty coverage - Elo P/N: E898449
3 year warranty coverage + AUR - Elo P/N: E898648
4 year warranty coverage + AUR - Elo P/N: E894921
5 year warranty coverage + AUR - Elo P/N: E895125

Regulatory approvals and declarations

Canada cUL, IC
Europe CE
United Kingdom UKCA
Japan VCCI
United States UL, FCC
China CCC
Korea, KCC, e-standby
Australia RCM
Mexico NOM
Taiwan BSMI
International CB
RoHS, China RoHS, WEEE, REACH
India BIS
Russia EAC

Touchmonitor
HDMI cable
USB Cable (USB Type-A to Type-C)
Quick Install Guide
EEI Label
Power brick
NA Power cable
EU Power cable
2 x cable clamps
2 x tie wraps
3 x screws (M3x8mm) for cable clamps
2 x screws (M3x10mm) for cable doors

Magnetic Stripe Reader (MSR) – Elo P/N: E001002
NFC/RFID Reader – Elo P/N: E001004
Fingerprint Scanner – Elo P/N: E134286
2D Barcode Scanner (SE4720) – Elo P/N: E384627
2D Barcode Scanner (SE4107) – Elo P/N: E245047
EMV Cradle for Ingenico ICMP (I-Series & 02-Series Monitors) - Elo P/N: E200465
EMV Cradle for Verifone E355 (I-Series & 02-Series Monitors) - Elo P/N: E201088
EMV Cradle for MagTek eDynamo - Elo P/N: E375343
EMV Cradle for Ingenico RP457c (with Audio Jack, BT and USB) - Elo P/N: E586981
EMV Cradle for Ingenico RP457c (with BT and USB) - Elo P/N: E710930
Status Light (Micro-USB Connectivity) - Elo P/N: E644767
Temperature Sensor Pro – Elo P/N: E534879
3D Camera - Elo P/N: E134699
Webcam - Elo P/N: E201494

Wall Mount Kit (75mm or 100mm VESA) – Elo P/N: E143088
Short Tabletop Stand for 10'' I-Series - Elo P/N: E160104
Shelf Mount Bracket (75mm or 100mm VESA) - Elo P/N: E043382
Floor Stand (75mm or 100mm VESA) - Elo P/N: E048069
Mounting Bracket for 0700L as Rear-Facing Display - Elo p/n: E332358
Pole Mount – 6 inch (75mm or 100mm VESA) - Elo P/N: E047458
Pole Mount – 12 inch (75mm or 100mm VESA) - Elo P/N: E047663
Pole Mount – 18 inch (75mm or 100mm VESA) - Elo P/N: E047864
Pole Mount Bracket (75mm or 100mm VESA) - Elo P/N: E045151
Wallaby™ POS Stand (Black) - Elo P/N: E949536
Wallaby™ POS Stand (White) - Elo P/N: E353758
USB-C to USB-C Cable Kit – Elo P/N: E710364
VGA-DB15 to Micro Cable Kit – Elo P/N: E710549
DVI-D to HDMI Cable Kit – Elo P/N: E538507
1.8 m USB-C Cable Kit – Elo P/N: E408388
Elo Backpack® 4 (Value Model)- Elo P/N: E393754
Elo Backpack® 4 (Standard Model) - Elo P/N: E393359
---
Accessories
(15)
Upgrades, add-ons, and more.
Resources
(28)
Drawings and Certificates

---

Collateral

User Guides

---

Additional Support Resources

---
Get Started with Elo Today.