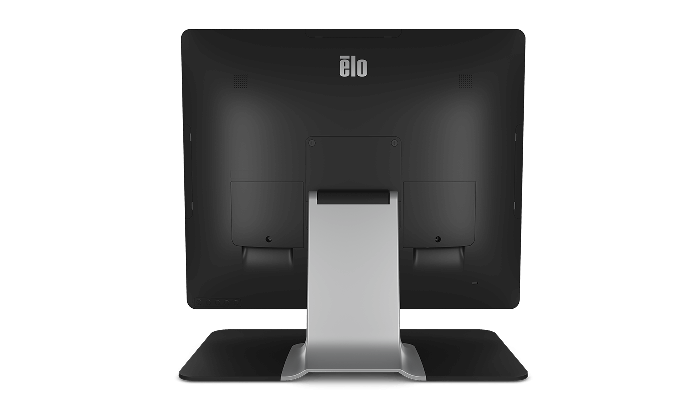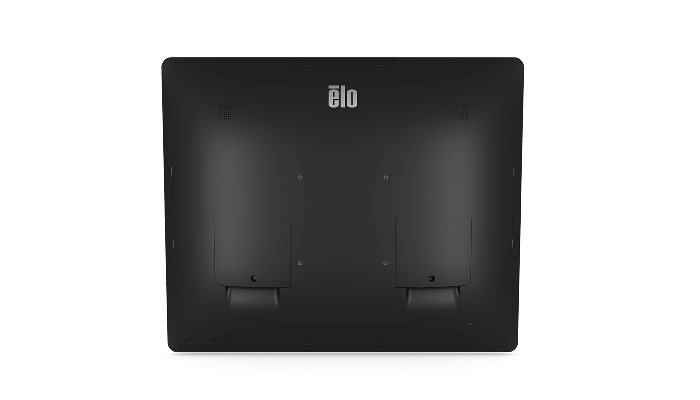 1902L 19" Touchscreen Monitor
1902L
Touchscreen Monitor
The Elo 02-Series of Touchscreen Monitors designed with seamless style across all sizes includes four options — a 19-inch square aspect ratio display and 22, 24 and 27-inch wide aspect ratio displays. With a compact form factor and clean design for easy integration, the 02-Series monitors are well-suited for point-of-sale, point of information, signage and hospitality applications. And with a variety of peripherals, the monitors can be transformed to meet the demands of your blueprint.
Brilliant Displays from 19 to 27-inches
The brilliant touchscreens with Elo's industry-leading TouchPro® PCAP technology offer wide viewing angles with impeccable image clarity, resolution, and light transmission for accurate touch response and vivid images. With up to 10 touches enabled, the 02-Series Monitors, provide a tablet-like experience.
Well-Suited for...
Not all businesses have the same needs. Whether you need a touchscreen at the point of sale to process a transaction or in a restaurant to enable self-service for guests to view your menu and submit their order, the line of 02-Series monitors can support the installation needs with ease while maintaining a modern, sleek aesthetic.
Retail
Hospitality

Government
Restaurant
Rental & Staging
Elo Edge Connect™ Lets You do More!
Built with versatility in mind, the Elo Edge Connect system offers a wide assortment of peripheral options. Whether for endless aisle, self-order or collaboration applications, you can seamlessly attach any combination of up to four peripherals to the edge of the touchscreen creating a bespoke solution. And, you can add or move them later as your needs change!
Fingerprint Scanner
The Biometric Fingerprint Scanner can be attached to provide secure and quick login.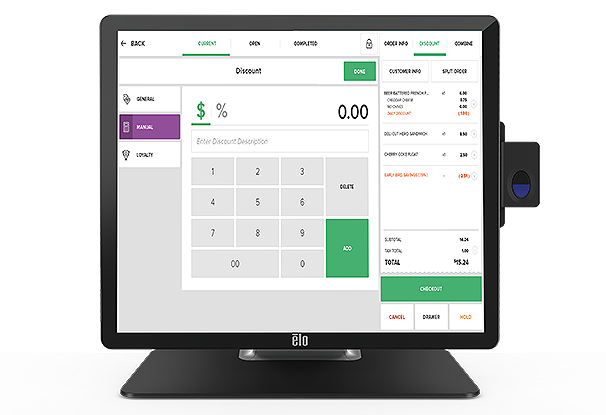 Barcode Scanner
Enhance self-service checkout and price-checker applications by coupling a high-performance barcode scanner onto the Elo touchscreen.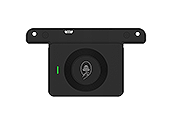 NFC
The Near Field Communication (NFC) adapter can be integrated for easy mobile payments with just a touch of the phone.
Learn More
One for You.
One for Your Customers.
Offer your customers a point of interaction by adding a touchscreen for them to review their transactions, participate in loyalty programs or see the latest promotion.
Mount with Flexibility
Customers demand a seamless shopping experience from first step into the store through check-out. From the stands that come with the monitors to pole mounts, shelf mounts, wall mounts and 3rd party VESA mounts, the touchscreens can be integrated with ease.
Connections
HDMI
VGA

Integrated Speakers
(HDMI or Line-In)

USB 2.0

Touch USB
The Elo
Advantage
Customization
Elo offers customized solutions with everything from slight modifications to ground up designs. If you need something customized.
Global Reach
Elo products are distributed and available across the globe. Every 21 seconds, an Elo touchscreen is installed somewhere in the world.
Long Life Cycle
We do everything in our power to minimize design changes and we've kept some monitors available to order for over seven years
Built-to-Last
The 02-Series Touchscreen Monitors deliver the quality and reliability Elo is known for and are backed by our 3-year standard warranty with an optional extension to 5-years. We design, build and are responsible for the complete solution,with touch integrated from the start.
Specifications
Technical

---

With Stand - E351388
Without Stand - E125695

Touch Technology & Capacity

PCAP (TouchPro® Projected Capacitive) - 10 Touch

19'' diagonal, Active matrix TFT LCD (LED)

14.76" x 11.80" / 374.78 mm x 299.83 mm

Other Supported Resolutions

640 x 480 @ 60Hz
720 x 400 @ 70Hz
640 x 400 @ 70Hz
800 x 500 @ 60Hz
800 x 600 @ 56, 60Hz
1024 x 768 @ 60Hz
1280 x 720 @ 58Hz, 60Hz
1280 x 800 @ 60 Hz
1280 x 1024 @ 60Hz

Horizontal: ±89° or 178° total / Vertical: ±89° or 178° total

LCD Panel: 250 nits
TouchPro PCAP: 225 nits

Response Time-total (typical)

Accessible through switches along the bottom:

Controls: Menu, Up, Down, Select

Settings: Brightness, Contrast, Clock, Phase, H-position, V-position, Auto-Adjust, Sharpness, Color Temperature, OSD Timeout, OSD Language, Volume, Mute, Recall Defaults, Audio Select, Power LED ON/OFF, Touch Thru

Languages: English, French, Italian, German, Spanish, Japanese, Traditional Chinese, Simplified Chinese, Russian, Korean

Lockouts: OSD, Power

VGA
HDMI
Combo Jack
DC jack
USB Type B
USB 2.0 Type A
4x Micro USB

VGA (VGA DE-15 (DB-15) Male connecter cable included)
HDMI (HDMI cable included)

Horizontal: 30 – 82KHz
Vertical: 50 - 75Hz

Power Consumption (Typical)

Monitor + AC/DC adapter
ON (Default - 80% Brightness): 13.07 W
ON (Typical - 100% Brightness): 14.58 W
SLEEP: 0.66 W
OFF: 0.32 W

12VDC +/- 5%
100-240VAC, 50/60Hz

Coaxial power jack (2.1 mm pin outer diameter, 6.4mm barrel inner diameter)

4x Micro USB side ports (Top, Bottom, Left, Right)

Monitor Dimensions (without Stand)

13.96" x 429.6" x 1.64" / 354.6 mm x 429.6 mm x 41.6 mm

Monitor Dimensions (with Stand)

15.66" x 16.91" x 7.61" / 397.7 mm x 429.6 mm x 193.4 mm

With Stand: 18.97" x 20.75" x 10.24" / 482 mm x 527 mm x 260 mm
Without Stand: 18.97" x 20.75" x 7.48" / 482 mm x 527 mm x 190 mm

With Stand: 13.9 lbs / 6.3 kg
Without Stand: 9.48 lbs / 4.3 kg

With Stand: 21.6 lbs / 9.8 kg
Without Stand: 14.33 lbs / 6.5 kg

0°C to 40°C / 32°F to 104°F

-20°C to 60°C / -4°F to 140°F

Operating: 20% to 80%; Storage: 10% to 95% (38.7℃ max wet bulb temperature)

50,000 hours demonstrated

VESA 4-hole 100mm mounting interface on rear of unit

4 year warranty coverage - Elo P/N: E898247
5 year warranty coverage - Elo P/N: E898449
3 year warranty coverage + AUR - Elo P/N: E898648
4 year warranty coverage + AUR - Elo P/N: E894921
5 year warranty coverage + AUR - Elo P/N: E895125

Regulatory approvals and declarations

Canada CUL, IC
China CCC
Europe CE
United Kingdom UKCA
Korea KCC
Taiwan BSMI
United States FCC, UL
Japan VCCI
International CB
Australia RCM
Russia EAC
Mexico CoC
India BIS
RoHS, China RoHS, WEEE, REACH

North America Power Cable C13 - Elo P/N: E593865  
Australia Power Cable C13 - Elo P/N: E594067
Europe Power Cable C13 - Elo P/N: E594264
Korea Power Cable C13 - Elo P/N: E594466
China Power Cable C13 - Elo P/N: E594670
Taiwan Power Cable C13 - Elo P/N: E594869
Japan Power Cable C13 - Elo P/N: E793799

Touchmonitor
Quick Install Guide
3x Tie wraps
VGA cable
HDMI cable
Touch USB cable
Audio cable
Power brick
NA Power cable
EU Power cable
EEI Label
4 x Screws (for E125695)

Replacement DC Power Supply

Power Brick 50W - E593661


Magnetic Stripe Reader (MSR) – Elo P/N: E001002
Fingerprint Scanner – Elo P/N: E134286
2D Barcode Scanner (Black - SE4720) – Elo P/N: E384627
2D Barcode Scanner (Black - SE4107) – Elo P/N: E245047
EMV Cradle for MagTek eDynamo - Elo P/N: E375343
EMV Cradle for Ingenico RP457c (with Audio Jack, BT and USB) - Elo P/N: E586981
EMV Cradle for Ingenico RP457c (with BT and USB) - Elo P/N: E710930
Status Light (Micro-USB Connectivity) - Elo P/N: E644767
Temperature Sensor Pro – Elo P/N: E534879
3D Camera - Elo P/N: E134699
Webcam - Elo P/N: E201494
RFID - Elo P/N: E673037

Wall Mount Kit (75mm or 100mm VESA) – Elo P/N: E143088
Shelf Mount Bracket (75mm or 100mm VESA) - Elo P/N: E043382
Pole Mount Bracket (75mm or 100mm VESA) - Elo P/N: E045151
1.8m Cable Kit - Elo P/N: E408193
Elo Stand 1902/3-2202/3 - Black (100 mm VESA) - Elo P/N: E804330
Elo Backpack® 4 (Value Model) - Elo P/N: E393754
Elo Backpack® 4 (Standard Model) - Elo P/N: E393359
---
Accessories
(13)
Upgrades, add-ons, and more.
Configurations
(2)
Refine your search:
E351388
Black
USB
No-Bezel
clear
TouchPro® - PCAP
E125695
Black
USB
No-Bezel
clear
TouchPro® - PCAP
No Configurations found.
Resources
(25)
Collateral

Drawings and Certificates

---

User Guides

---

Additional Support Resources

---
Get Started with Elo Today.